Pradhan Mantri Awas Yojana Parts
Pradhan Mantri Awas Yojana aims to provide housing at an affordable price to the lower income group people, urban poor, rural poor and weaker sections of the society.
The annual income cap for Economically Weaker Sections (EWS) is of Rs 3 lakh

The annual income cap for Middle Income Groups (MIGs) is between Rs 6 to 18 lakh.

The maximum yearly income for Lower Income Groups (LIGs) applicants are set between Rs 3 to 6 lakh.
Components of PM Awas Yojana
Pradhan Mantri Awas Yojana (PMAY) offers affordable housing to the urban poor with a target of building 20 million affordable houses by 31st March 2022. The PM Awas Yojana is divided into two components. They are as follows:
Pradhan Mantri Awas Yojana (Urban) (PMAY-U) for the urban poor

Pradhan Mantri Awaas Yojana (Gramin) (PMAY-G) and (PMAY-R) for the rural poor.
How to Apply for Pradhan Mantri Awas Yojana
Make sure your name is listed in the beneficiary list of the "Pradhan Mantri Awas Yojana" to be eligible to apply for the scheme. Here's a step by step online application process to apply for a PM Awas Yojana
Step 1:
To apply for the scheme you need to visit the official website online at http://pmaymis.gov.in/
Step 2:
Under the 'Benefits under other 3 components' option choose one component and select the 'Citizen Assessment' from the dropdown.
Step 3:
Now fill in your Aadhaar Card number and click on submit to verify your Aadhaar details.
Step 4:
After the verification you will be redirected to the next page where you will have to provide information like your name, income, no. of family members, residential address, contact number, etc.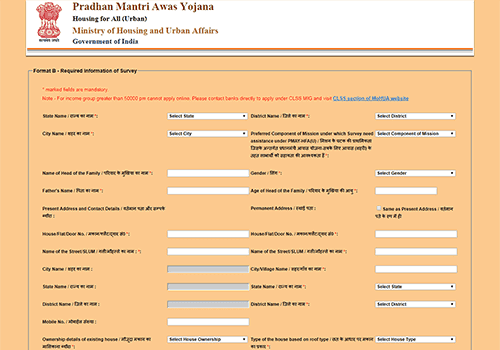 Step 5:
Once all the information is filled in type the captcha code in the box and submit.
In case of any errors made during filling up the application , you can edit the form with the help of your Application and Aadhaar number.
List of Banks Providing PMAY Scheme
List of Banks/NBFCs/HFCs for PMAY Scheme

ICICI Bank Ltd

Bajaj Housing Finance Limited

Axis Bank Ltd

Fullerton

HDFC

LIC Housing Finance

Karnataka Bank Ltd

SBI

Karur Vysya Bank Ltd

Indiabulls

Kotak Mahindra Bank

Bank of Baroda

Yes Bank

IIFL
Eligibility For PM Awas Yojana
To be eligible the beneficiary family should not own a pucca house in India under his/her name of any member of his/her family.

Married couples, either of the spouse or both together in joint ownership are eligible for the PMAY subsidy scheme.

The beneficiary family should not have previously availed any central assistance under any government housing scheme of India.