Various equipment, gadgets, and systems are used by millions of individuals to ensure uninterrupted work. These devices are powered by electricity, and in order to use them, you must pay your electric bills on time. Bajaj Markets provides you with the ideal platform for paying your Tamil Nadu Electricity Board bill online quickly and easily. It is a perfectly secure and painless method of paying your energy bills. Even if you're on the go, you may pay your bills using any device that has a steady internet connection. Payment of your bill online on time will ensure an uninterrupted supply of energy, allowing you to use your electronics without interruption.
Bajaj Markets has developed a secure and reliable platform for paying Tamil Nadu Electricity Board bills online. Make a bill payment using the Bajaj Markets app on your phone or our website on your computer. We make certain that our platform is the safest, quickest, easiest, and least stressful way to pay Tamil Nadu Electricity Board bills online. Here are a few quick steps to get you through the process.
Download the Bajaj Markets mobile app from Google Play Store or the iOS store and launch the app on your phone for quick and easy TNEB Bill Payments.
Log into the app with your mobile number, date of birth, and the OTP you'll receive.
On the home page, you will see an option called 'Bill Pay,' as shown below. Click on it.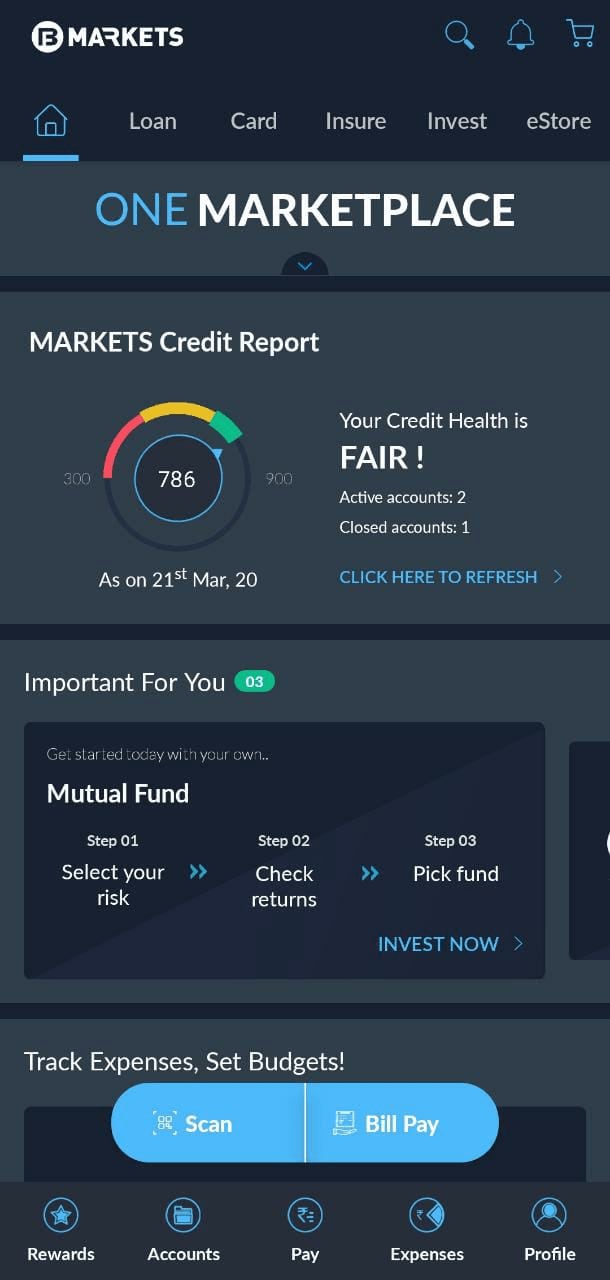 4. Then, you will see different options like DTH, gas, insurance and more. Select 'Electricity' from those options.
5. Then, you will see a long list of electricity providers in the country.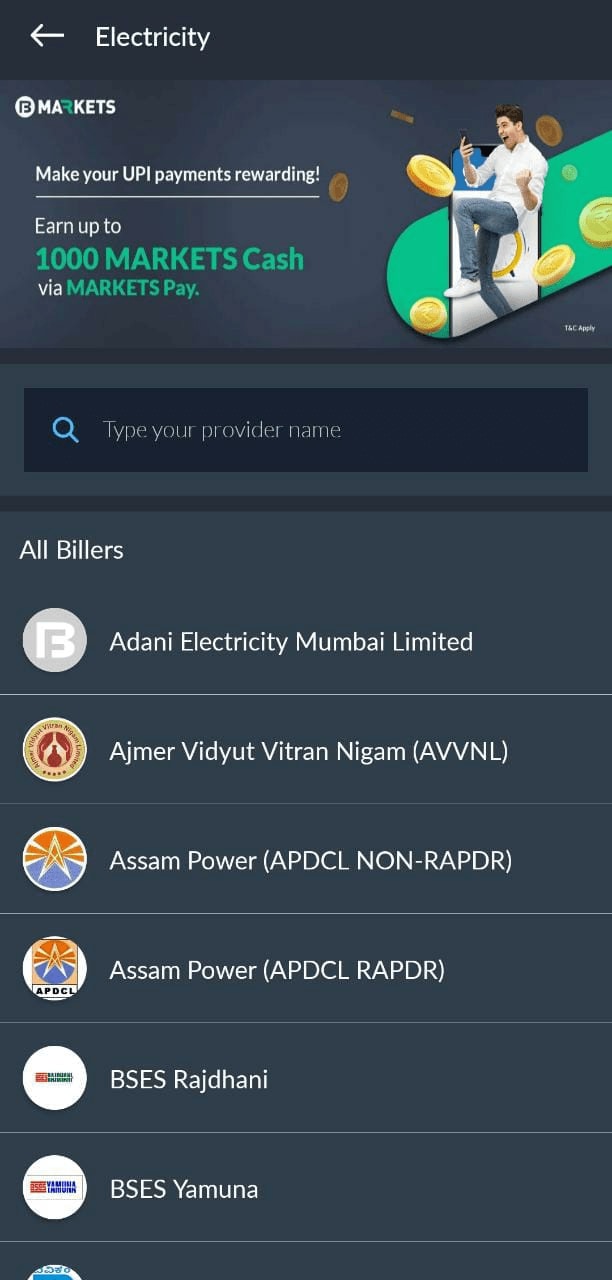 6. If you reside in Tamil Nadu, your service provider will be the Tamil Nadu Electricity Board. Select this from the list.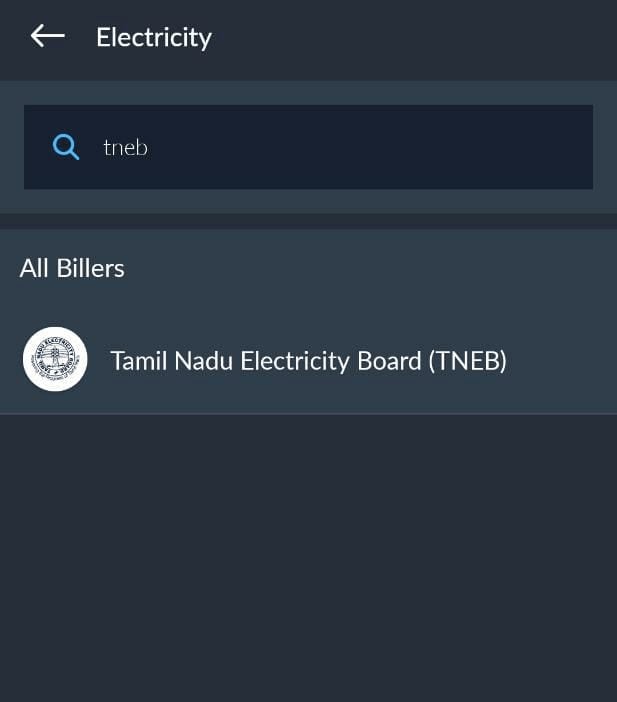 7. Then, enter your consumer ID and click on the 'View Bill' option to see your online bill, if it has been generated.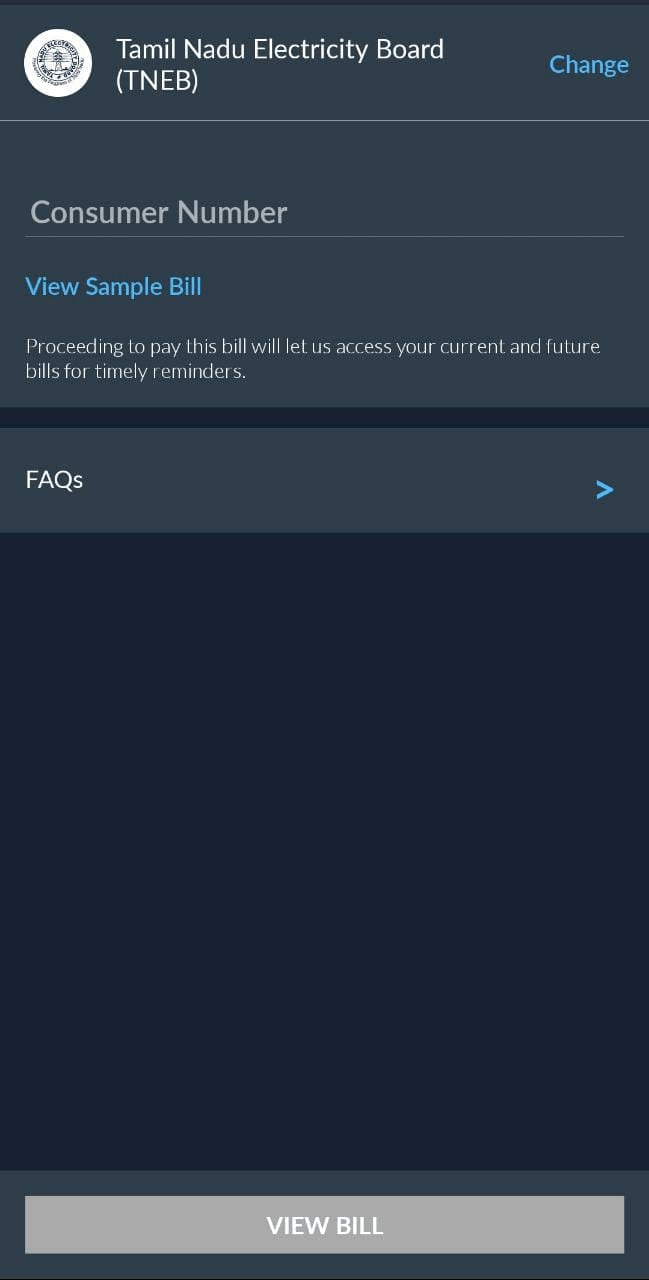 8. The amount due for your TNEB online bill payment will be shown, along with payment options.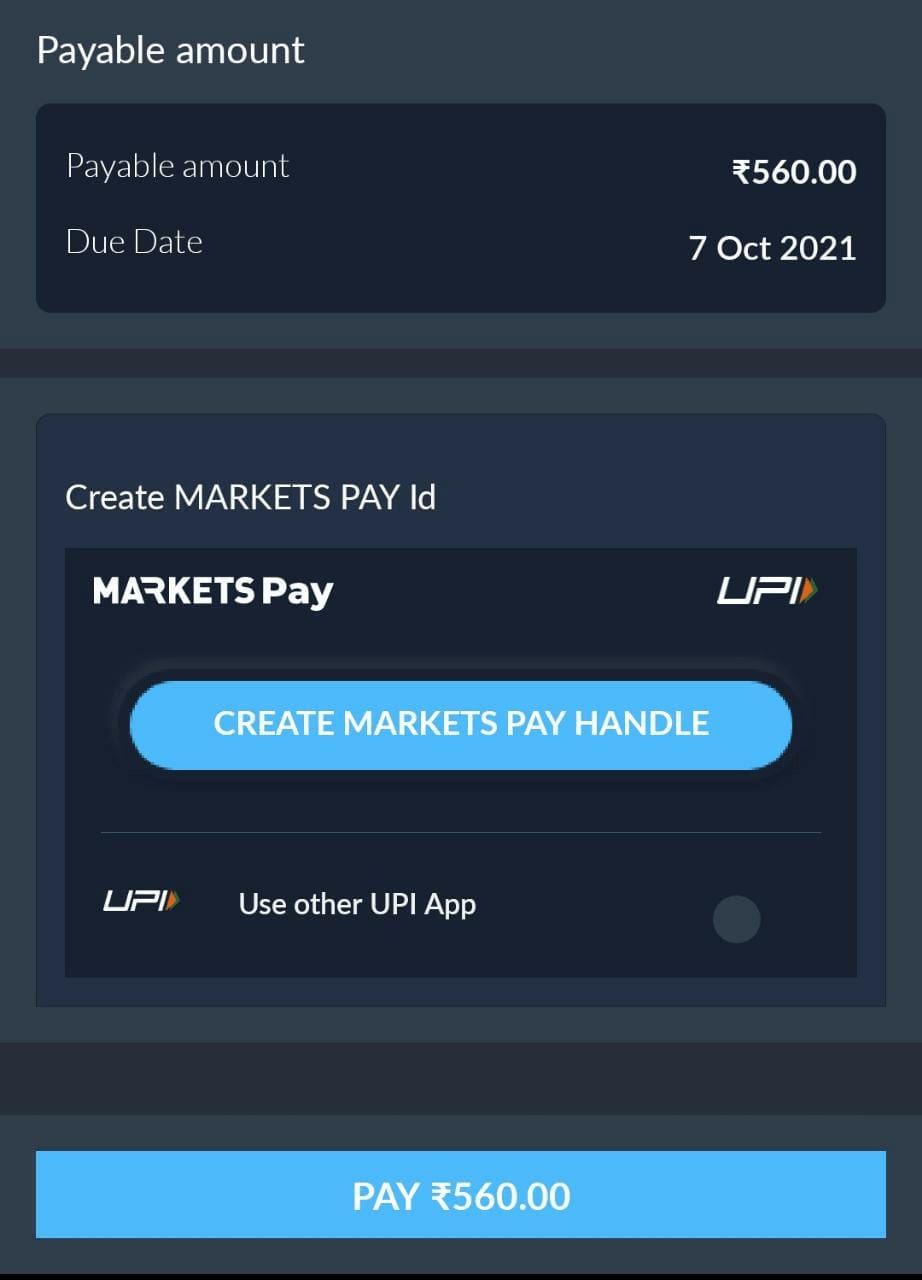 9. Select the option that you prefer and make the bill payment via UPI.
Why Choose Bajaj Markets app to Pay TNEB Electricity Bill?
The Bajaj Markets app has proven to be the safest, quickest, and most effective platform for paying Tamil Nadu Electricity Board bills. When our users utilise our platform to pay their electricity bills, we offer them a variety of TNEB bill payment offers. It is a very practical and user-friendly tool that anyone may use to pay their energy bills. Here are some of the advantages of using the TNEB Bajaj Markets bill payment platform.
At Bajaj Markets, we offer free electricity bill payment services. We provide a speedy and secure bill payment at no additional cost to you. You also avoid incurring penalties and late fees as a result of late payment. Plu, you get many EB bill payment offers too.
The Bajaj Markets platform places a premium on your safety and security, thus we provide a safe and secure payment gateway. We keep all of your personal information private. We've taken the essential precautions to prevent internet fraud and theft.
Banks can take up to 72 hours to complete your payment, however Bajaj Markets guarantees immediate payment. As a result, if you pay at the eleventh hour, you won't have to worry about late fees or penalties being applied to your bill. You will receive an immediate notice acknowledging the payment as soon as it is made.
We offer a service that allows you to pay your electricity bills quickly, and we cover a variety of electricity providers. Make rapid and secure payment transactions using any of the payment alternatives available, such as UPI, Credit Card, Debit Card, and so on.
Know more about TNEB Electricity Bill Payments Online
We at Bajaj Markets make paying your cc charges in TNEB a stress-free experience for you. Our site accepts a variety of payment methods. Choose whichever option is most convenient for you and pay your Tamil Nadu Electricity Board bill. Debit card, credit card, UPI payments, wallet, and net banking are just a few of the major payment alternatives available on the TNEB app and website. Do not put off paying your electricity bills because it may cause you to lose power, which will disrupt your work and daily routine. Furthermore, paying these bills on time assures that there are no penalties or late fees on the unpaid payment. Our platform employs many levels of protection to ensure that payments are safe and secure.
| | |
| --- | --- |
| Payment Method | Details |
| TNEB online electricity bill payment through debit card | Debit card payment for TNEB online bills is a popular mode of payment; all you need are the relevant card data and codes. |
| TNEB bill payment by credit card | Payment via credit card is a simple approach that is similar to payment by debit card. |
| TNEB payment with Online Wallet | Online wallets are becoming increasingly popular due to their rapid transfer capabilities and ease of use. |
| BHIM/UPI payment | BHIM UPI or UPI method is available on the TNEB online bill payment app, or the TANGEDCO mobile app. |
| Bharat Bill Payment System | BBPS is a platform that brings together a number of banks and EB bill online payment gateways. |
| RTGS/NEFT payment | RTGS and NEFT payment methods are also supported by the TNEB system. |
How to Check TNEB Electric Bill Status?

If you live in Tamil Nadu, checking your EB bill status is easy. There are two main ways to check the TNEB bill status online. The first option to check your TANGEDCO bill status is through the official TNEB website. The second way to check the TANGEDCO bill status online is through the Bajaj Markets app.
TNEB bill check online: To check your Tamil Nadu EB bill status, head to the official website of TNEB, login using your credentials and perform your TNEB bill status check or pay your bill as needed.
TNEB bill status check via the app: You can also log into the Bajaj Markets app and click the 'Bill Pay' option on the home page. Then, select the service provider as TNEB and enter your consumer number. If your bill is generated, you should be able to view it by clicking the 'View Bill' button.