As the 2019 Deloitte Global Millennial Survey shows, 57 per cent of the over 13,000 respondents world-over point out that "travel and seeing the world" topped the chart of aspirations for millennials across the globe.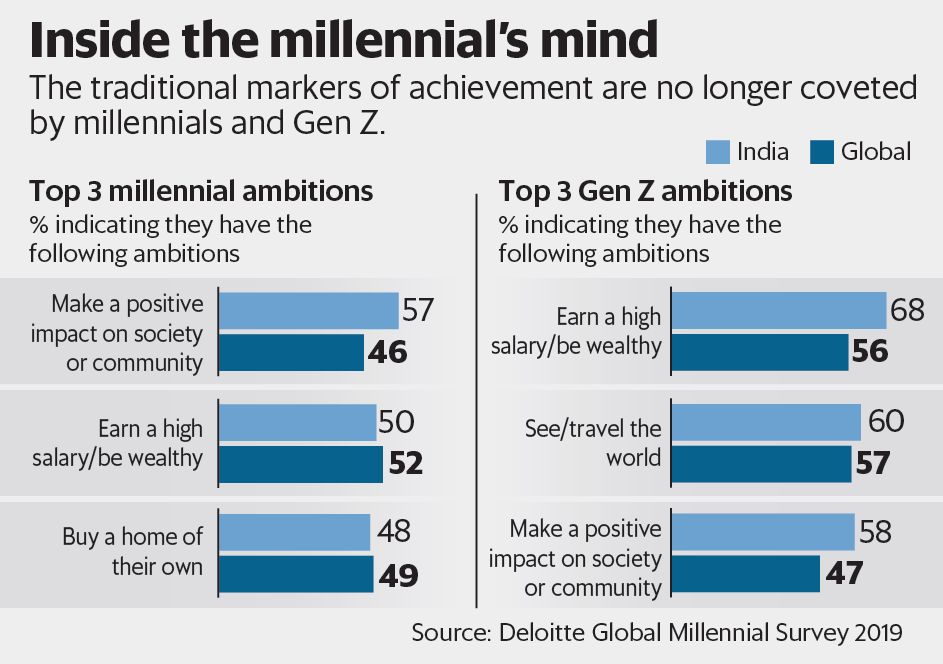 (Source: Livemint*)
It was a natural choice for Tushar, too, to go online and do his research on bookings and accommodation. This led him to the concept of an EMI card. He researched further for more information on how EMI cards worked, and found them to be an ideal option to fulfill his dreams and at the same time, ensure that he his savings aren't all blown up on one dream trip.
According to a 2019 Holiday Travel Report , more Indian travellers are looking at EMIs as a viable option to finance their holidays than ever before. At least 4% of the survey's respondents across several age groups said they were availing such options to travel. This is a significant development and marks a change in the mindset of the Indian traveller, who is now willing to explore new options to finance his/her world travels. Yet another report from the UN World Tourism Organisation (UNWTO) says that 50 million Indians are heading abroad, up from 23 million in 2017.
Read on for more on no cost EMI and how you can make optimal use of it for your travels.
EMI cards have emerged as an attractive option because of their ease of use and availability online. Also, the availability of a no cost EMI means an aspirational chunk of society gets to fulfill its needs in the here and now. This aspirational class encompasses not just the leading metros but even the non-metro shoppers. According to a 2018 BCG report on 'Digital Consumer Spending in India, 9 percent of non-metro shoppers online found the availability of easy EMIs a strong trigger for purchase.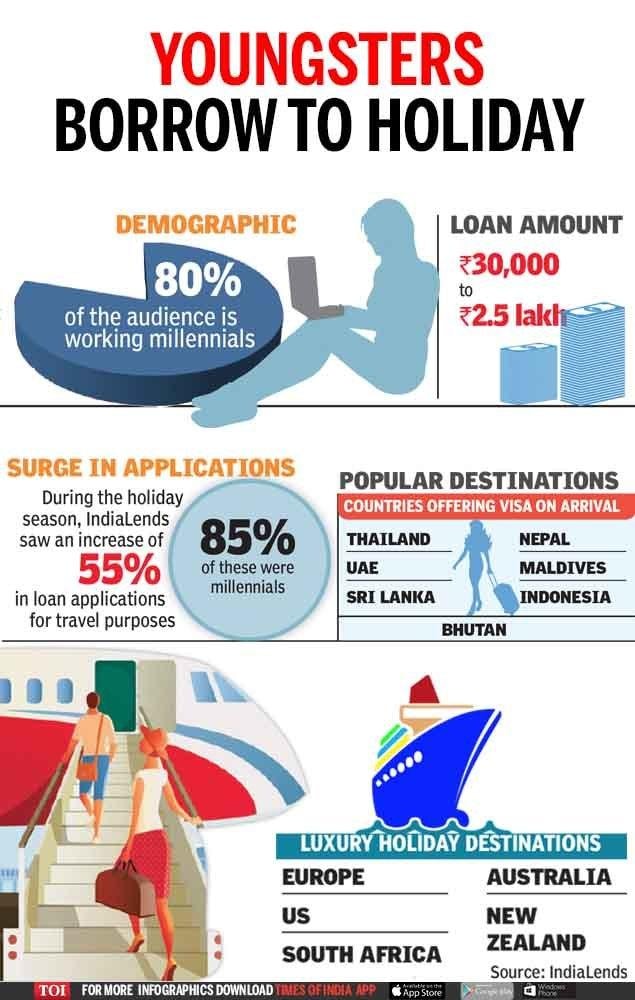 (Source: TOI**)
When you make your travel bookings on Goibibo with your Bajaj Finserv EMI Network card, available on Finserv MARKETS, it comes with a pre-approved loan. It means you essentially get to convert your purchase of tickets or bookings into monthly instalments. This gives you the freedom to travel without any worries about finances. An additional benefit is that you don't have to pay anything extra for up to three months.
A Bajaj Finserv EMI Network card, available on Finserv MARKETS, gives you the opportunity to choose the tenure of the loan based on your financial situation. The tenure begins at as low as three months, and can go up to 24 months. Your EMI depends on a nominal rate of interest, your borrowed amount and the tenure.
For making your bookings on the Goibibo travel booking site with your no cost EMI card, all you have to do is select your purchase (the minimum purchase is Rs 4,500), and then enter your details before proceeding to payment. In the payment option, you would have to choose the Bajaj Finserv EMI Network card available at no cost EMI. The next step is to choose a tenure and scheme of your convenience, and enter your card details. You will then need to confirm the purchase with an OTP, and you are done.
EMI cards, available on Finserv MARKETS, give shoppers the option to shop online for anything from consumer durables, smartphones to travel packages. The Bajaj Finserv EMI Network card apply process involves basic documentation, which can be uploaded online. Also, there are no foreclosure charges should you opt to clear your loan ahead of tenure. You can even get an add-on EMI card for up to two of your family members. Tracking your payments and transactions is a breeze with such a card.
In conclusion, getting a Goibibo EMI option is ideal for those who want to travel and explore the world and not defer it to some distant future. Considering that smartphone adoption and broadband connectivity in the country is deep, anyone can buy a Bajaj Finserv EMI Network card online. It is a hasslefree process, and saves time and costs as well. Finserv Markets, from the house of Bajaj Finserv, is an exclusive online supermarket for all your personal and financial needs. We understand that every individual is different and thus when you plan to achieve your life goals or shop for the gadget of your dreams, we believe in helping you Make it Happen in a few simple clicks. Simple and fast loan application processes, seamless, hassle-free claim-settlements, no cost EMIs, 4 hours product delivery and numerous other benefits. Loans, Insurance, Investment and an exclusive EMI store, all under one roof – anytime, anywhere!