Buy a Watch on EMI
The lifestyle choices consumers make have seen a sea of changes in the past few years. For instance, just as smartphones have taken over the world by storm, smartwatches are gaining fame too. Smartwatches that you get these days have become virtual trainers for some people with their multitude of fitness apps. Besides this, they come with monitors that take care of your health, while performing functions of your smartphone like enabling you to answer calls, get notifications, etc. The best smartwatch on the market today may be costly, but a smart watch on EMI is easily affordable if you buy it with the Bajaj Finserv EMI Network Card
Get the Latest EMI Offers for Smartwatches on Bajaj Finserv Partner Stores
There is an affordable way to buy your smart watch on EMI. Watches available at the Bajaj Finserv EMI Network Store are available at discounts and nil down payment.
Apart from this, you need not pay interest with EMIs as you do with credit card EMIs. So you get a smartwatch at NO Cost EMI. At partner retailers of the Finserv Network (like Amazon, Flipkart, etc.), you can get the best smartwatch on the Bajaj Finserv EMI Network Card. Here are some great watches to consider:
Noise ColoFit Pro 3 Smartwatch
If you want a smartwatch on the Bajaj Finserv EMI Network Card, then Amazon is one place to go to. This smartwatch is available at a discount at Rs. 3,499, and its features include a heart rate monitor, sleep & step tracking, 14 sport modes, a 1.55" LCD touch screen display, and it is Android and iOS compatible.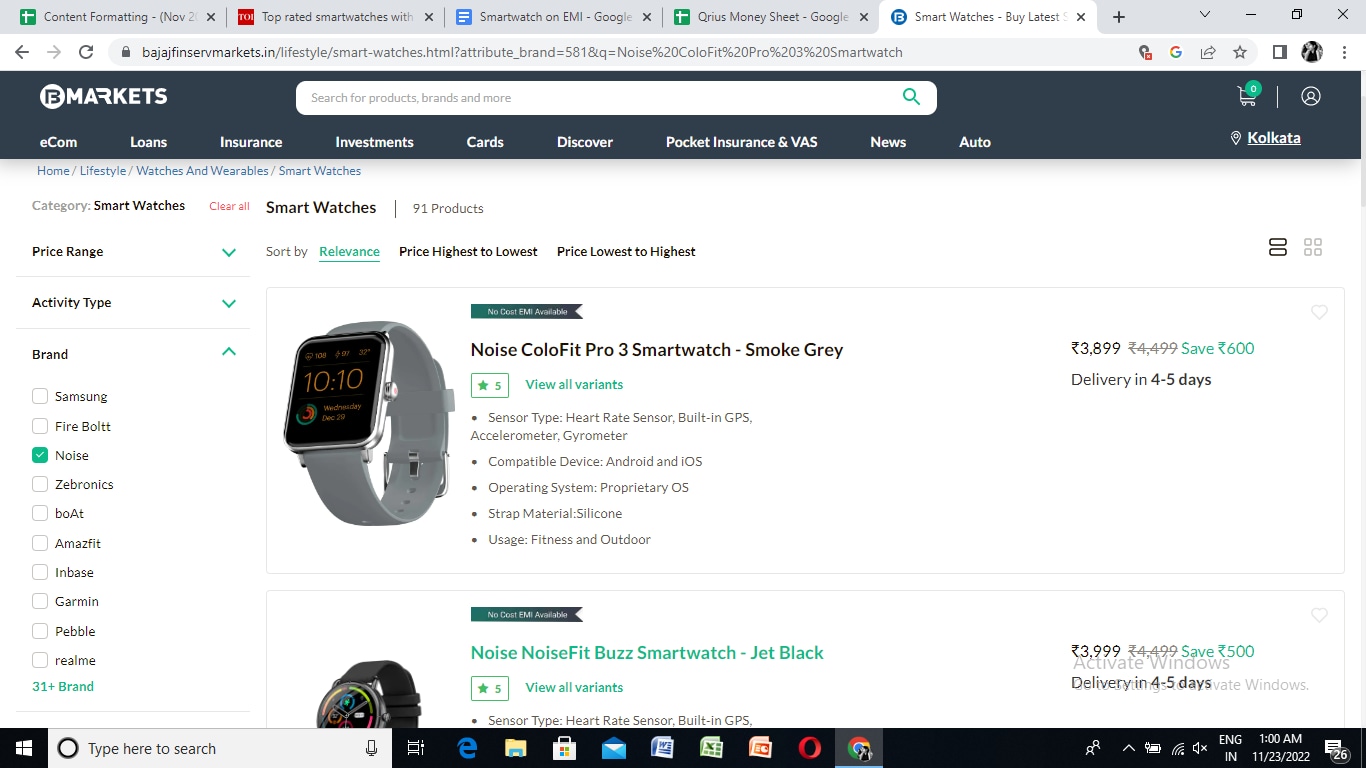 Designed as a conventional watch, this watch comes to you at a discounted price of Rs. 4,999 from Amazon. Its unique features constitute an intelligent touch screen that is adaptive to surrounding brightness levels, and accurate health monitors such as blood oxygen level and heart rate.
Fire Boltt INVINCIBLE Smartwatch
From the Bajaj Finserv EMI Store, you can buy this smartwatch at Rs. 7,499 and nil down payment. With Bluetooth and built-in superior speakers, you get connectivity and a sound system that's great for streaming music. This is one of the best watches on EMI online.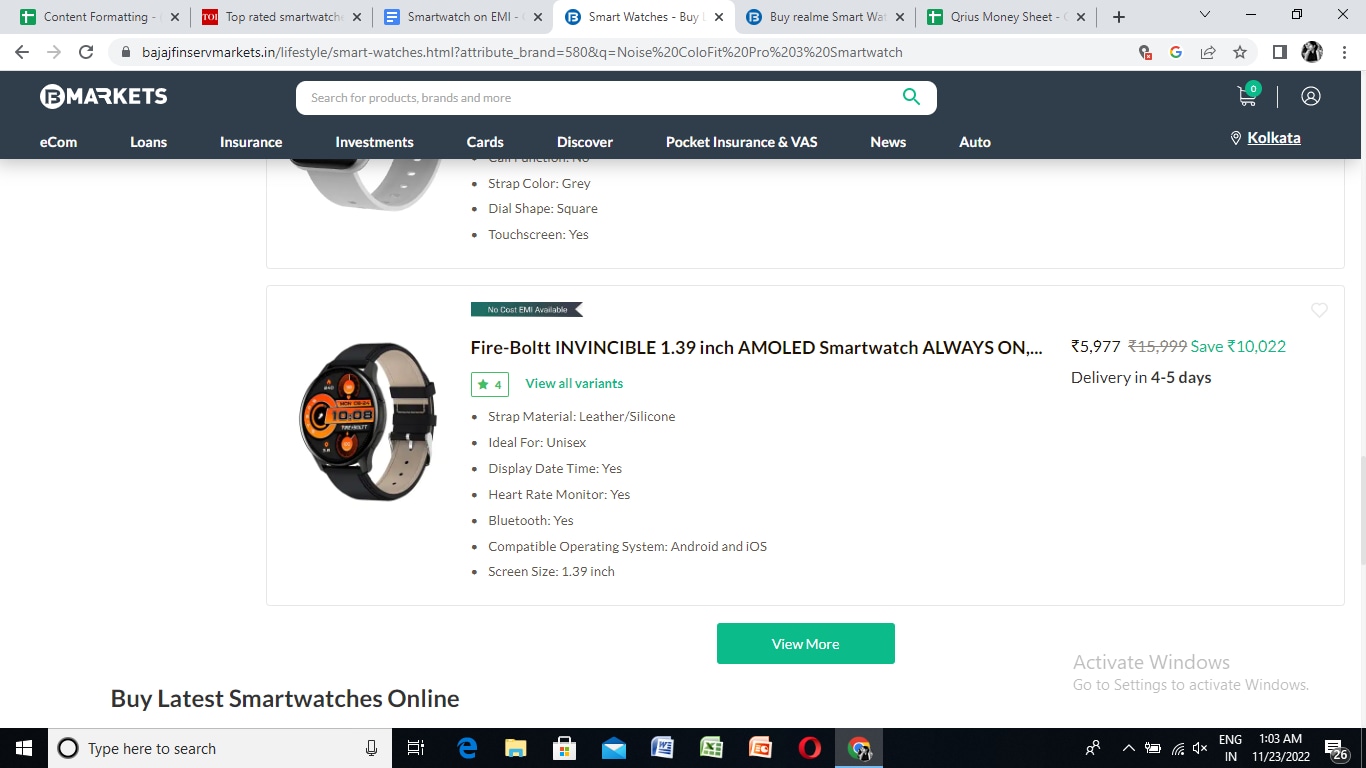 Goqii Smart Vital Plus Smartwatch
At an offer price of Rs. 3,499 on the Bajaj Finserv EMI Store, this smartwatch gives you the distinctive offer of 3 months of free personal training.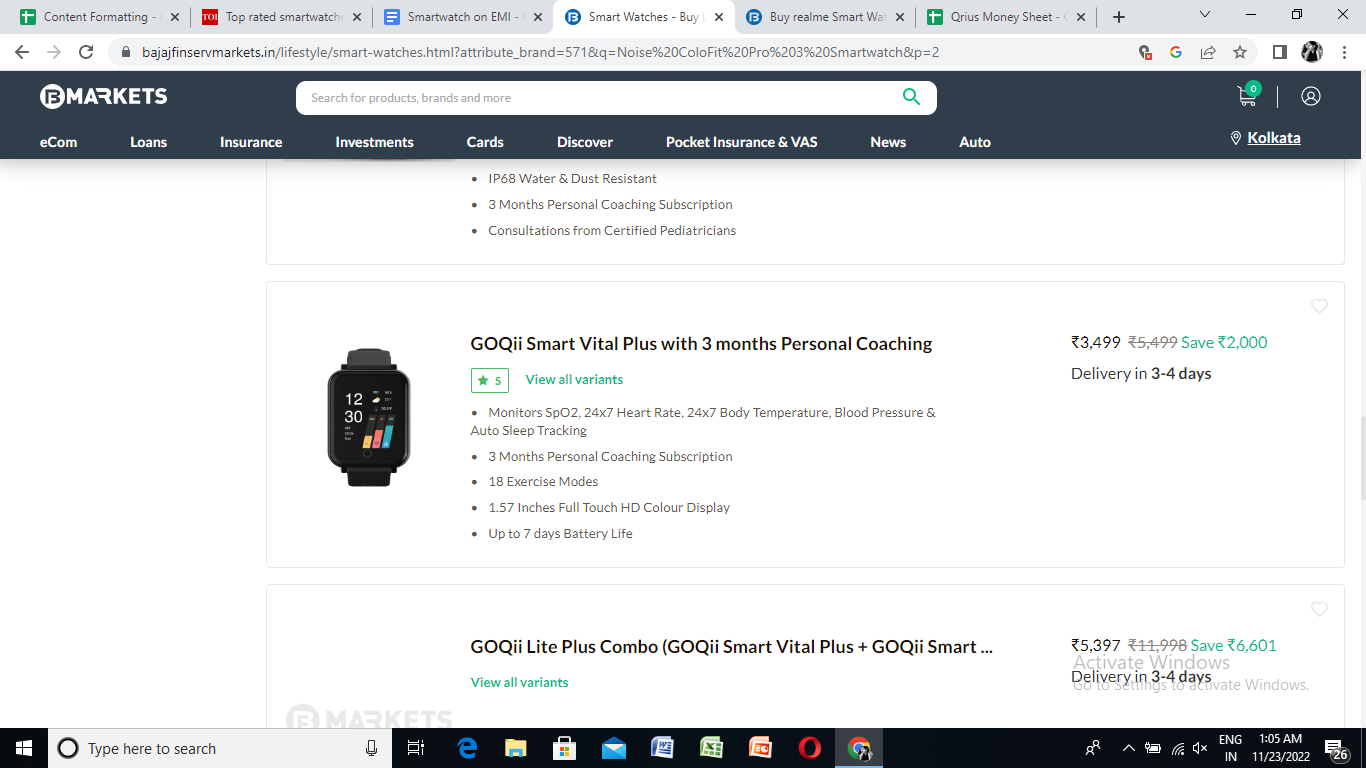 List of Prices for the Top-Selling Smartwatches in 2022
The table below lists the prices for the top-selling smartwatches in 2022:
| | |
| --- | --- |
| Product Name | Offer Price |
| boAt Xtend 1.69 inch Smartwatch Charcoal Black | ₹3,999 |
| Fire-Boltt Ninja Pro Full Metal SpO2 Smartwatch (Black) | ₹2,999 |
| boAt Storm Smartwatch with 3.3 cm (1.3 inch) Display, Daily Activity Tracker and 9 Sports Modes (Teal Green) | ₹3,999 |
| boAt Storm RTL Smartwatch with 3.3 cm (1.3 Inch) Display, Daily Activity Tracker and 9 Sports Modes (Black) | ₹3,999 |
| boAt Xtend Smartwatch with Alexa Built-in, 1.69 inch HD Display with 14 Sports Modes (Olive Green) | ₹3,999 |
| boAt Xtend Smartwatch with Alexa Built-in, 1.69 inch HD Display 14 Sports Modes (Pitch Black) | ₹3,999 |
| OnePlus Watch (Silver Strap, Regular) IN W301GB | ₹14,949 |
| Noise ColoFit Pro 3 Smartwatch - Smoke Grey | ₹3,999 |
| AMAZFIT GTS 2E | ₹9,999 |
| Samsung Galaxy Watch 3 LTE 45mm Smartwatch (Mystic Silver) | ₹24,990 |
Shop for Smart watch on EMI Using the Bajaj Finserv EMI Network Card
To shop for any smartwatches on EMI without a credit card at any of the Bajaj Finserv partner stores, you must follow the below-mentioned steps:
Step 1: Pay a visit to the website of any partner of the Bajaj Finserv Network that sells a range of smart watch on EMI.

Step 2: Log in to the website with your credentials.

Step 3: Browse and compare a wide range of smartwatch choices.

Step 4: Pick the smartwatch you want and proceed to the checkout section.

Step 5: Select the Bajaj Finserv EMI Network Card's NO Cost EMI payment option as your preferred payment mode.

Step 6: Finally, select the repayment tenure that is suited to you.
When you purchase a watch on EMI with the use of the Bajaj Finserv EMI Network Card instead of a credit card, you do not have to pay any cash upfront, and especially not in a lump sum. Apart from this, you get some terrific offers at the Bajaj Finserv EMI Network Store, making your shopping deal even sweeter.
Advantages of Purchasing SmartWatch Using the EMI Network Card
The benefits of the Bajaj Finserv EMI Network Card are plenty. Buying any new gadget on the Bajaj Finserv EMI Network Card lets you have an enjoyable shopping experience as you don't have to worry about the cost of your purchase. In addition to this, a credit card may be difficult to procure, but the Bajaj Finserv EMI Network Card is easy to obtain with an online process. Here are the advantages you get with this unbeatable payment instrument:
Get the freedom to access a pre-approved loan with a high limit to buy any latest smartwatch.

Avail the NO Cost EMI perk on any top-notch smartwatch and save while you spend.

Get an advanced smartwatch at nil down payment.

Repay your EMI loan over convenient and flexible tenures that are aligned with your requirements (from 3 months to 2 years).

You can foreclose on your loan at any time without any penalties after the first EMI is paid.
You can apply for a Bajaj Finserv Insta EMI Card in an easy online application process at Bajaj MARKETS. With a few criteria for eligibility, the card is instantly yours, and you can start making good use of it to begin your shopping adventures!
Things to Know Before Buying a Smart Watch
It can be difficult to choose which smartwatch to buy if you are buying one for the first time. With so many manufacturers in the market, there are many options. One of the most popular consumer goods right now is the smartwatch. There are several high-quality smartwatches on EMI, available today, and a few major companies have established themselves as the leaders.
However, some of you are still unsure about what these smartwatches are, which advertise as a more intelligent substitute for conventional watches. Below are some of the things you need to know before you buy a smartwatch on EMI:
Display: The display is a key consideration when purchasing a smartwatch. High-end smartwatches typically use OLED displays. However, thanks to cheaper options from businesses, LCD screens are more frequently seen. You can also obtain an AMOLED display, which is more affordable than LCD screens, in several mid-range smartwatches. OLED or AMOLED displays, which use less power and have higher readability both inside and outdoors, may have a longer battery life than LCD displays.
OS and App Selection: You must choose the smartwatch OS you want to use before you can choose apps to install. Any wristwatch will work with an iPhone running iOS, but the Apple Watch series offers the best compatibility. And if you have an Android smartphone, you can pick from any smartwatch apart from the Apple Watch because Android does not support it. Even though a smartwatch is a relatively small gadget, it can run thousands of programmes that are specifically made for it.

Apps like WhatsApp and Uber are available that have been modified for the wristwatch platforms. Numerous well-known apps are supported by Apple Watch, and Samsung's Tizen OS appears to be catching up with the trend. Even Google has its Wear OS, which is compatible with many apps designed specifically for smartwatches. As a result, you ought to purchase a watch that supports a lot of the programmes you utilise frequently.
Fitness tracking: One of the major uses of a smartwatch today is activity tracking. It is the all-purpose timepiece that records your first steps, calories burned, workouts, and the majority of wearables on the market now even include a heart rate monitor. A GPS is sometimes built into smartwatches, which is particularly helpful for keeping track of your nightly strolls and outdoor runs. Swimmers would also want something water-resistant, and since the majority of modern smartwatches have an IP rating, they are simple to use in swimming pools.
Battery life: Although most users continue to express dissatisfaction with battery life, there have been significant improvements in this area recently. The typical battery life of an Apple Watch and Wear OS devices is two days. With the extended battery life feature, watches powered by the Snapdragon wear 3100 processor, can go up to five days without charging. Other gadgets with fewer features could last 5 to 7 days, although most fitness trackers on the market fall into this category.
Communication: Smartwatches also enable you to stay updated on your most recent communication alerts, such as missed calls and text messages. Without picking up your smartphone, you may quickly see who has been messaging or contacting you. Some watches enable you to respond to text notifications with brief, predetermined pre-set messages right from your wrist. You can make calls to anyone or answer calls even while your phone is off using other high-end smartwatches like Apple and Samsung.