Dharitri Assam Land Records (ধাৰিত্ৰী অসম ভূমি ৰেকৰ্ড)
Dharitri Assam Land Record is an online portal which ensures smooth transfer and registration of all the processes of Assam land records. The Assam government provides the details pertaining to land, such as updating of land records such as mutation, partition, conversion and reclassification, and land revenue collection. It also ensures smooth interconnectivity with the Revenue Circle, Sub-registrar, Deputy Commissioners' offices and the Directorate of land Records. Any change with respect to the Records of Rights (ROR) in land will be reflected in the Jamabandi Assam.
Dharitree Assam Land Records Details
Name of the Portal

ILRMS

Official Site

landrevenue.assam.gov.in

Contact Number

+91 361 2237273

Mobile App

Dharitree Mobile App

Official Address

Shri Jishnu Barua, CM's Block, 2nd Floor

IAS Additional Chief Secretary to the Government of Assam Revenue & Disaster Management Department
Assam Integrated Land Records Management System (ILRMS) Purpose
The Integrated Land Records Management System or Dharitree (or Dharitri) portal is an attempt on the part of the Assam state government to integrate land-related information in the state. The information it provides are as follows:
Registration and Transference of Land

Periodical updation of Land Records such as mutation, partition, conversion, and reclassification

Collection of land revenue
How to Check Land Records in Dharitri Assam Online?
Checking dharitree (ধাৰিগছ) Assam land records via digitization has made many things easier. In the current times, checking land records can be done in 5 simple steps:
Step 1: The first step is to go to the official ILRMS website. If the page is in Assamese, you will have the option to translate the page to English if you would like. More often than not, the page would be displayed in Assamese.
Step 2: Once you go to this page, click on the "Deposit" or the "Jamabandi" button.

Step 3: Once you complete this second step, you will be redirected to another page. Now, the next step is to select the district for which you want to pull out the land records.

Step 4: Once you complete the step of selecting your district, you will yet again be directed to another page. On this new page, you will have to identify your circle name and select the same. If you are unaware of your circle, it is best that you gather this information in advance.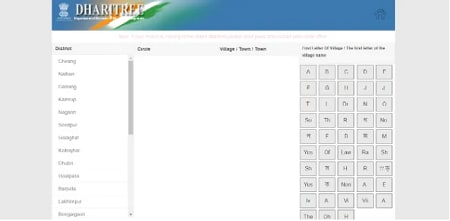 Step 5: After you have selected your circle, you have to then select the name of your village. Once you select your village, you then have to select the year for which you would like to obtain the land record.
How to get Land Records in Assam Offline?
If, by any chance, the name of the Assamese village does not appear in the list on the Dharitree Assam online portal, you must contact the concerned circle office in order to obtain the same. This is due to the fact that some of the land records are yet to be digitised, although more than 26,000 village maps in Assam have made it to the Dharitree Assam portal.
So, in order to get a physical copy, you would need to pay a visit to the nearest circle office and submit an application.
What if Your Land Information is not Available on Dharitri Assam Portal?
In the event that the land information is not available on the Dharitree Assam portal (ধাৰীট্ৰি অসম পৰ্টেল) as well as with the officials of the concerned circle office, you must visit the concerned tehsildar's office to seek the details. This is because several Assamese villages do not have a cadastral map. A cadastral map is defined as a map that shows the aerial topography of a location/plot of land that has been tweaked a little bit as per the given specifics, such as the survey number or khata number.
How to Check Mutation Property in Dharitri Assam?
The process of checking the mutation property in Assam is fairly easy. All you must do is write a letter mentioning your requirement and address it to the Commissioner of Guwahati Municipal Corporation (GMC). After the official in question receives the letter, they will send it to the Deputy Commissioner assigned to the concerned GMC zone, at which point, you would be required to pay a sum of ₹100. You can then acquire the mutation certificate provided that all terms and conditions are satisfied.
How to Check the Status of Your Dharitri Assam Mutation Property?
Get in touch with the concerned zone's circle officer in order to know about the status of your mutation property. Note that you should have all of the relevant documents on your person at the time of conducting a mutation property status check.
What Services does Dharitree Portal Provide?
The ILRMS Assam portal provides a plethora of services. Here is a list of services provided by them when it comes to increasing the ease of registration of land and the feasibility of accessing land records.
ILRMS Assam ensures that land records are safely stored, updated, and archived in an organised manner.

More than 26,000 village maps are digitised and updated through Bhu-naskha Assam.

Ensure the entire land registration and transfer of land records happen in a transparent manner.

The authorities get their hands on land records in a fast and hassle-free manner.
Moreover, ILRMS aims to reduce the cost of processes associated with registration of land, land transfer, updating land records, and maintaining land records.
Bhulekh Assam Fees and Contact Information
Usually, for the services availed, a certain fee will be charged. Typically, this fee varies between Rs. 50 and Rs. 200. In addition to the fee, here is the detailed contact information of the different departments that can be handy when needed.
| | |
| --- | --- |
| Department | Contact Address |
| Revenue and DM | CM-Block, 3rd Floor, Assam Secretariat (Civil), Dispur, Guwahati - 781006 |
| Relief and Rehabilitation | Assam Secretariat, Block-E, Ground Floor, Dispur, Guwahati - 781006 |
| Allotment or Settlement of Land | Assam Secretariat, Block-E, Ground Floor, Dispur, Guwahati - 781006 |
| Registration | Assam Secretariat, Block-E, Ground Floor, Dispur, Guwahati - 781006 |
| Digital India Land Records Modernization Programme (DILRMP), RTI | Assam Secretariat, Block-E, Ground Floor, Dispur, Guwahati - 781006 |
| E-Governance | Assam Secretariat, Block-E, Ground Floor, Dispur, Guwahati - 781006 |
| Land Acquisition, Establishment, Settlement, and Reforms | Assam Secretariat (Civil), Dispur, Block-D (First Floor), Guwahati - 781006 |
The ILRMS Assam Land Records portal is very useful and effective when it comes to accessing land records and maintaining the repository of land records efficiently. In addition, the entire process of registering is easier through the Dharitri Assam land records online. Moreover, in case of any queries, the concerned department can be contacted to get the queries resolved.
If you think that you have thoroughly checked the details concerning that plot of land in Assam which you plan on buying, and now you are actually thinking about making the purchase, why not even consider taking a land loan? It is a well-known fact that Land Loans make the process of acquiring a plot much easier. You can apply for Home Loan at Finserv MARKETS.