Latest Updates on Bhoomi RTC
In September 2022, tahsildars were instructed to conduct all matters of land transfer, mutation, and RTC transfer through the Bhoomi software and complete these processes within 60 days. In instances of disrupted cases, this timeline could extend up to three months.
What is Bhoomi RTC?
Bhoomi is the flagship project of Karnataka, launched in the year 2000. With the help of Bhoomi online, land records within the state have been digitised, enabling easy accessibility. Bhoomi land records portal can give you the following details:
Soil type

Details of landowners

Crops grown

Area of measurement

Water rate

Tenancy
RTC is an acronym and expands to Record of Rights, Tenancy and Crop, and is also referred to as 'Pahani'. This document contains the names of owners of agricultural lands within Karnataka. Farmers need this document when availing a loan, getting an electricity connection or selling land. RTC also plays a crucial role in mutations, when you have to change the title of the ownership.
Here are the three main components of an RTC:
What are the Benefits of the Bhoomi Portal?
The Bhoomi portal has digitised Karnataka land records, which are readily available for access. Besides being able to log on to Bhoomi RTC, view, and verify land details, farmers can avail loans and other credit facilities with the data. Thanks to the Bhoomi Karnataka portal, you can easily extract details like the name of the owner and plot number.
The RTC Bhoomi online also helps you apply for mutation requests when you want to sell land. As Bhoomi RTC information contains crop-related data, you can use it while claiming crop insurance. Apart from these, you can also track the status of your mutation request via Bhoomi online RTC.
What is RTC
RTC is an essential land record document supplied to existing landowners in Karnataka. This document contains essential details about the land, which are listed below:
Details about the landowner

Information about the type of soil

Identification of the type of land

Details about the grown crops (past and current both)

Size of the land

Required amount of water for the land

Charges for the required amount of water

Details about the bank loan and collateral used

Tenancy details

Nature of possession
How to get Land Records in Bhoomi Online RTC
Here are the steps to follow to access Bhoomi RTC online.
Step 1: Visit the Bhoomi Karnataka page at https://landrecords.karnataka.gov.in/

Step 2: Click on the 'Services' tab

Step 3: Now choose 'i-RTC' from the drop-down menu

Step 4: Enter your credentials to log in to the page

Step 5: Fill in details such as the year, village, district, etc, and click on 'Fetch Details' to view the records
How to View RTC Form 16 Online?
Follow the steps mentioned below to view the RTC Form 16:
Step 1: Browse the Bhoomi land records Karnataka website

Step 2: Select the 'View RTC Information' option
Karnataka Land Conversion Based on Affidavit
The affidavit-based land conversion system has been implemented by the state government to ease the approval procedure for converting agricultural land portions to non-agricultural land. Karnataka is the first state to introduce this kind of system.
According to this, the approval is given to owners of agricultural lands to allow them to use their land for operations that are not farming-related. This method is introduced to reduce delays in the land-use transfer procedure. State residents, tehsildars and revenue inspectors can obtain benefits from this facility.
However, while using this facility, you must submit the following documents:
Record of Rights (RoR)

Tenancy and crop status

11E sketch (in case of more than one landowner)

An affidavit on a stamp paper of ₹200
Procedure to Obtain Affidavit Online for Land Conversion in Karnataka
Here are the steps to follow to get an online affidavit for land conversion in Karnataka:
Step 1: Visit the Bhoomi Karnataka portal

Step 2: Navigate to the 'Land Conversion Services' section and click on 'Apply Online For Land Conversion'

Step 3: Create your account or login using your User ID, Password, Captcha

Step 4: Go to the 'Affidavit-Based Conversion' tab

Step 5: Select the 'New Request' alternative

Step 6: Provide necessary details like district, village name, and so on

Step 7: Click on the 'Get Owners' tab

Step 8: Provide details like the Aadhaar card number, address, mobile number, etc. of the landowner

Step 9: Click on 'Add Owner'

Step 10: Provide the transaction details

Step 11: Choose the 'Generate Affidavit' alternative
If only a portion of the property is being converted or the RTC has multiple individual owners, the alienation sketch number must be provided. Your affidavit will be generated after that.
Then, download and sign it. Make sure to submit the affidavit through the Bhoomi RTC portal online or by visiting the taluk office of your area.
How to access Bhoomi Online Revenue Maps
Apart from Karnataka land records, you can now easily access revenue maps with the help of the Bhoomi Karnataka portal. Following are the steps for the same.
Step 1: Go to the Bhoomi Karnataka website

Step 2: Choose 'Revenue Maps' from the Survey (SSLR) Services tab
How to Extract Mutation Report in Bhoomi Portal
Below are the steps to extract a mutation report on the Bhoomi Karnataka portal:
Step 1: Visit the Bhoomi Karnataka portal

Step 2: Go to the 'Services' section

Step 3: Select 'View RTC and MR'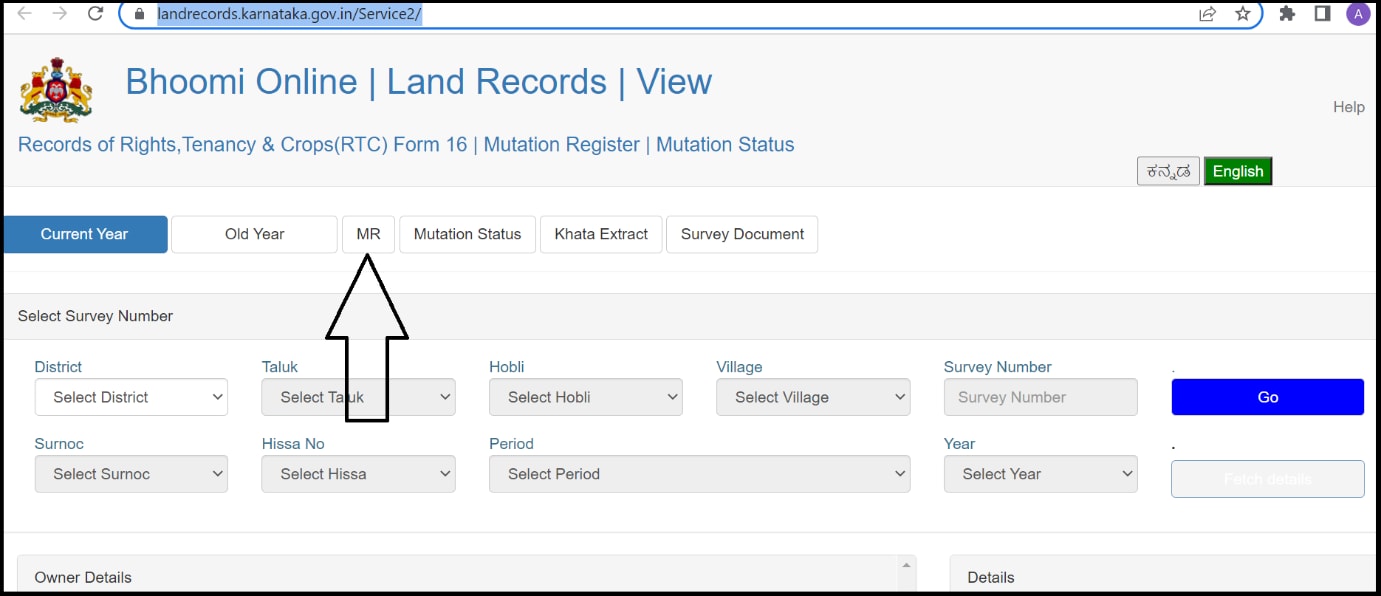 Step 5: Enter the required details such as hissa number, district, survey number, etc, and click on 'Fetch Details'

Step 6: View the data on the screen
How to get Revenue Maps for Karnataka Land Records Online
You may download revenue maps just by following the below-mentioned steps:
Step 1: Visit the Bhoomi Karnataka homepage

Step 2: Choose 'Revenue Maps under the Survey (SSLR) Services section

Step 3: Input details such as the village, district, type of map, and so on

Step 4: Click on 'View Maps'

Step 5: Download the map in PDF format after viewing it
How to View Bhoomi Dispute Case Reports Online
Below are the steps to view Bhoomi dispute cases.
Step 1: Go to the Bhoomi website and click on 'Dispute Cases'

Step 2: Select 'District' and 'Taluk'

Step 3: Click on 'Get Report' in order to view the details
Documents, Fees, and Charges on Bhoomi Karnataka Portal
Through the Bhoomi Karnataka site, the Karnataka government has provided a digital platform that offers several services like land records, access to revenue maps, etc at a single platform. This has simplified things, thereby saving you time and effort.
In addition to the online site, the government has also established land record kiosks in the state. Residents can visit these offices to obtain their land documents. However, you are required to pay fees to get these documents. Here's a closer look at the applicable charges
| | |
| --- | --- |
| Document | Charge |
| Tippan | ₹15 |
| Mutation Status | ₹15 |
| RTC (Rights, Tenancy and Crops) | ₹10 |
| Mutation Extracts | ₹15 |
How to Download Bhoomi RTC (PDF Format)
To download RTC in the PDF format, follow the steps mentioned below:
Step 1: Visit the Bhoomi Karnataka homepage.
Step 2: Select 'i-RTC' under the Services option.
Step 3: Enter the details like your name, mobile no. and Aadhaar card no.
Step 4: Select 'Fetch details' and get your RTC.
Step 5: Click on the 'Pay' option by paying ₹15 if you want to download the RTC copy.
Karnataka Land Records (Bhoomi): Mobile App
In addition to the web portal, Bhoomi mobile app is available on Google Play Store. It contains all the features, which are available on the web portal.
Karnataka Land Records Contact Details
In case of any information or grievance, you can contact following number, email ID and address:
| | |
| --- | --- |
| Contact Number | 080 22113255 |
| Email ID | bhoomi@karnataka.gov.in, bmchelpdesk.s@gmail.com |
| Director's Address | Director of Bhoomi and UPOR: Bhoomi Monitoring Cell, SSLR Building, K.R. Circle Bangalore – 560001 |
| Special Duty Commissioner's Address | Special Deputy Commissioner Bhoomi Monitoring Cell, SSLR Building, K.R. Circle Bangalore – 560001 |
Now you must be aware of what Bhoomi Karnataka is and how you can access the land records from it. You may have learnt crucial facts concerning the online portal, land record details, registration process, and so on.

If you are planning to purchase a property in Karnataka, you can avail a home loan in just a few simple steps. This process is made easy by Bajaj Markets, where you can get home loans from various lenders..
Other Land Records