Features of Dharani Online Portal
The portal offers an efficient and effective mode for land registration and administration. Given below are some of the significant features of Dharani:
The Dharani portal ensures transparency and error-free record management due to automated operation.

Auto-update of textual land records, survey, and maps on a real-time basis using GIS tools.

The portal poses as a transactional information source for land purchase, selling, mortgage, etc.

Individuals can apply for online registration effortlessly.

A single source to manage all land records online.
How to Check your Land Records in Telangana?
Here's a step by step guide to check your land records online in Telangana.
Step1: Visit the Maa Bhoomi TS official website and tap on 'Registered Document Details'.
Step 2: Enter the required details like the district, sub-registrar office (SRO), book type, registration year, and document number.
Step 3: Once you have filled in the details, click on "Submit". If required, you can even choose to reset the information accordingly.
Step 4: Upon submitting, you'll be able to view your land records.
List of services provided by Maa Bhoomi Telangana Land Record
Land conversion/NALA

Land valuation certificate

Encumbrance search

Slot booking and rescheduling

Certified copy

Succession/mutation

Agriculture income certificate

Encumbrance certificate

Duty and fee calculator

Track application

View unit rates

Public data entry

Payment of registration services

View receipts
Steps to Check ROR-1B and Pahani Documents Online Using Khata or Survey Number
The following are the steps to check ROR-1B and Pahani documents online:
Step 1: Visit the Maa Bhoomi Telangana website online.
Step 2: Fill in the required details, such as district, division, mandal, village. Now enter the Khata number or survey number.
Step 3: Tap on 'Get Details' to get access to all the information on ROR-1B and Pahani documents.
Steps to Check your Application Status Online
Step 1: Visit the Dharani Maa Bhoomi Land Records website to check your application status.
Step 2: Start by filling in the 'Application Number' or the 'Registration Document Number'.
Step 3: Click on 'Submit' and the status of your application will be displayed on the screen.
How to Get Access to the Registered Document Details Online?
Given below are the steps to view your registered documents online through the Dharani portal:
Step 1: Visit the official Maa Bhoomi Telangana website.
Step 2: Fill in the required details like the district, SRO (sub-registrar office), book type, the registration year, as well as the document number.
Step 3: Enter the required 'Captcha'.
Step 4: Click on 'Submit', you also have the option to 'Reset' the details provided.
How to Sign Up on Dharani Online Portal?
Mentioned below are the steps to sign up to the Dharani portal:
Step 1: Visit the official Dharani Maa Bhoomi TS portal online.
Step 2: At the bottom of the page, tap on 'Click Here' and a new window will pop up on the screen.
Step 3: Fill in details like your name, mobile number, email ID, state, district, mandal, village/city, address, and pin code.
Step 4: Select the 'Get OTP' option to sign up on the website.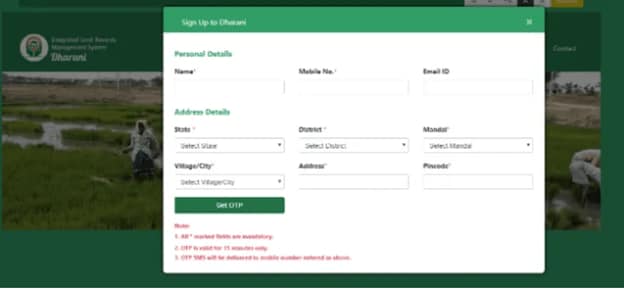 How to Log In to the Dharani Portal?
Once you've successfully signed-up on the portal, you can log in with the allotted username and password. Below are the steps to login in on the portal.
Step 1: Visit the online portal at dharani.telangana.gov.in/.
Step 2: Click on 'Login' and you'll be directed to a new page where you need to fill in the required details such as 'User Type', 'Username', and the password.
Step 3: Enter the 'Captcha' code to log in.
Land records contain complete information across different departments at the district or village level. The government's initiative of digitization of property registration and managing land records on a single portal will make them more accessible to the citizens of the state. Now, while undertaking a property purchase or transferring property, buyers will be able to get details about past ownership in a transparent manner.
Improper land records can harm future transactions related to the property. It requires a lot of research and networking when you plan to buy a property or a new house. A common problem that a property buyer faces is managing their financial budget to make a home purchase. With a Bajaj Housing Finance Home Loan at Finserv MARKETS, one can easily avail a loan amount of up to Rs. 2.5 Crore at affordable rates. With the Finserv MARKETS app, the online home loan application process is seamless and requires minimal documentation. Also, the repayment tenure for home loans is quite flexible and goes up to 360 months. You can also use the home loan EMI calculator online to get an estimate of the EMI amount and help you manage your repayments with ease.