One of the most vital legal documents that offers the validity of any given property being free from legal and monetary liabilities is the certificate of encumbrance. The EC (Encumbrance Certificate) shows that any given property can be on the market for sale and that it has a clear title, and the ownership is able to be transferred from one party to another without the threat of litigation.
The Encumbrance Certificate is issued by the Revenue & Disaster Management Department of the Government of Odisha to any individual. This is a document granted by the government and it is available online. EC in Odisha will be issued to a citizen who buys/sells a property in Odisha.
Importance of the Odisha Encumbrance Certificate
As you can likely see, an Encumbrance Certificate is a must-have document, both from the point of view of a buyer and a seller of real estate. The following points illustrate why the certificate is relevant:
The EC has to be compulsorily provided in order to be granted a loan for the purchase of property. Banks and other financial institutions insist upon this to be assured that properties are free from any potential legal tangles.

The only legal evidence of a title of ownership is the EC.

As the EC is an officially acceptable document of the title of ownership of any property, it is essential to have it while the transfer of any property takes place.

In the event that land or property tax remains unpaid for a period of over three years, the EC has to be updated in the records of the Land Tax Department. An EC is only issued after all taxes on any property concerned are paid and up-to-date.

In case you wish to raise funds from a provident fund account, you will require an EC.
Details in an Encumbrance Certificate
Now that you are convinced of the relevance of an Encumbrance Certificate, you may be interested to know about the details pertaining to it. Here is a list of information you will discover in an EC:
The EC, firstly, contains the name/names of the property owner/owners.

The EC has information relating to all the details of the said property.

The EC displays a total description of any property, identical to that which exists in the property's Deed of Sale.

Any transactions that have taken place with respect to a given property will be shown in the Encumbrance Certificate. Transaction information will be listed in a chronological manner.

An EC of land in Odisha will have loan and mortgage information if applicable. The same holds true for an EC relating to any type of property.

Concerning gift deeds made, these details will be mentioned in the EC.

In the event of a jointly-held property, any details of a Deed of Release will be mentioned in the EC.
How to Apply for an Encumbrance Certificate Online in Odisha?
An Encumbrance Certificate can be obtained online very easily via the website of the Revenue and Disaster Management Department of the State of Odisha at Revenue & Disaster Management Website - revenueodisha.gov.in. You can follow the steps below to get your EC online: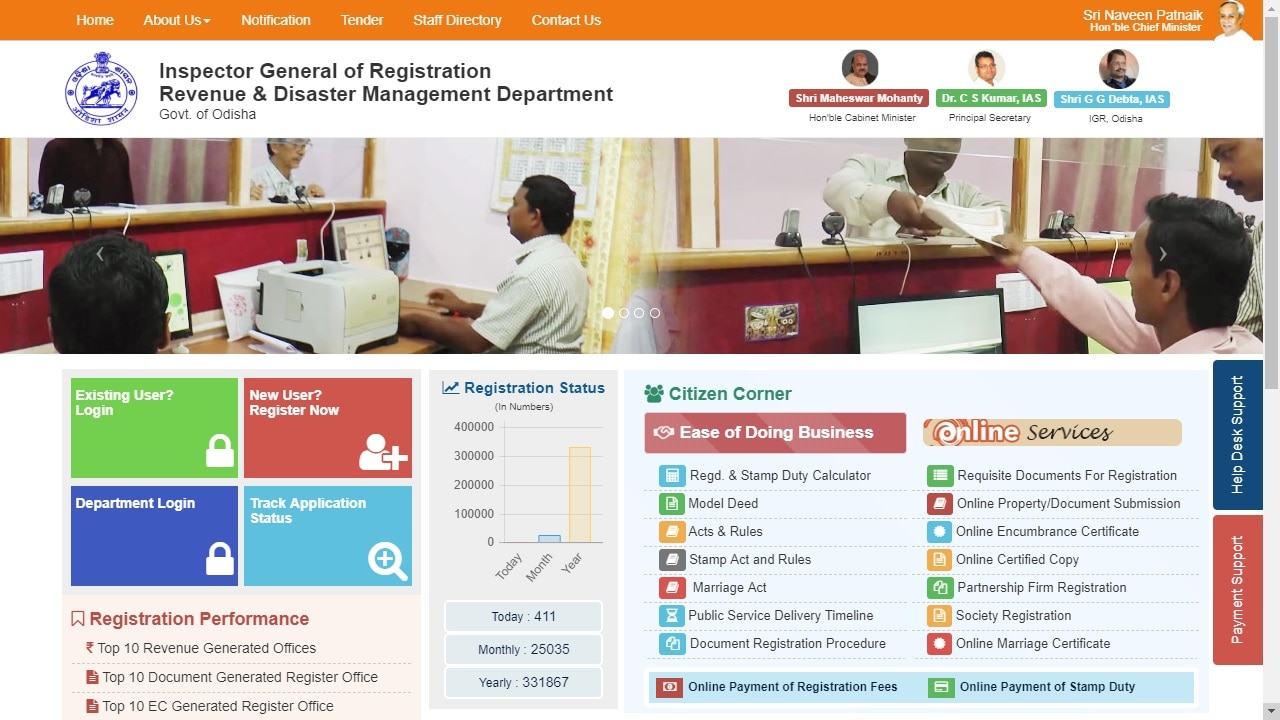 Step 2: You will be redirected to a new page where you will need to register yourself. You must furnish your personal details like your name, date of birth, etc.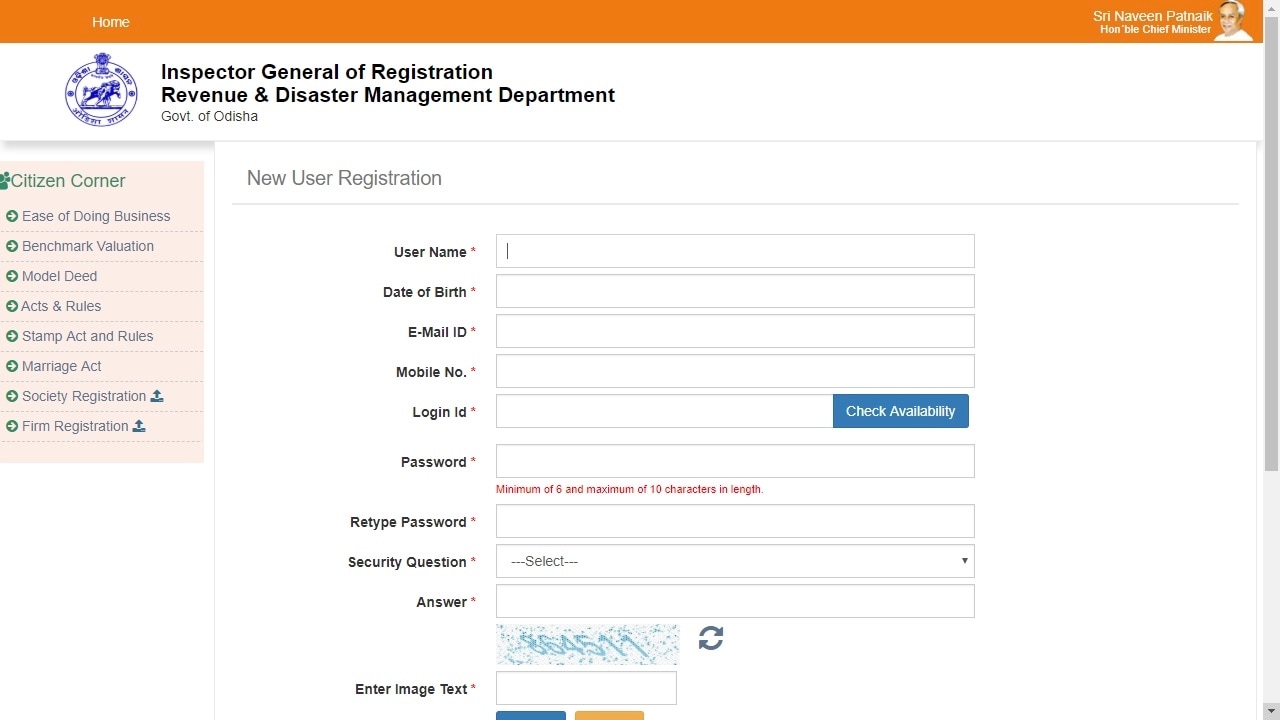 Step 3: Then create your user ID to login to the website.

Step 4: You will have to complete a captcha code activity and submit your information which includes details of your property.

Step 5: You can now log into the portal with your new username and ID.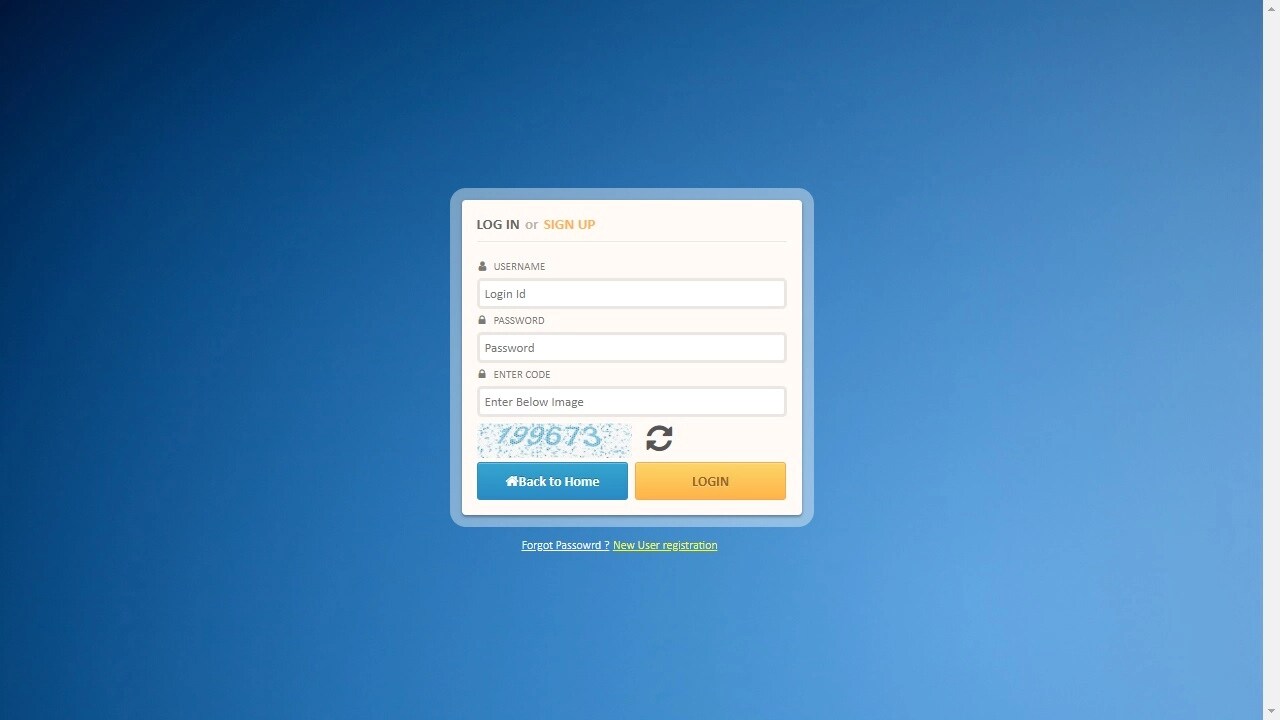 Step 6: The next steps involve submitting details of your property, such as the district, etc. You must click on 'Save' to maintain a record of your own information.

Step 7: After this, you need to provide information about your Sub-Registrar's Office.

Step 8: Then you will have to enter the period for which you require the EC.

Step 9: For obtaining an online EC, Odisha Department of Revenue and Disaster Management will charge you a fee. This forms the next step in your application. You must click on 'Calculate Fees'.

Step 10: Make a payment of the fees that are displayed and you will receive a receipt of payment.
Odisha Encumbrance Certificate Fee
There is no specified fee to obtain an Encumbrance Certificate, but a mere service charge of Rs. 10, when you apply online.
How to Check the Application Status?
When you have successfully completed the application process for an EC, and paid the fees, your EC will be processed at the concerned Sub Registrar's Office. You can easily monitor the status of your application at the website by providing your application number. These are the steps:
Step 2: Click on 'Track Application Status'.

Step 3: Enter your unique application number and submit.
You will be able to see the status of your application.
How to Download an Odisha Encumbrance Certificate?
Your EC of land, Odisha application has to be reviewed by the Sub Registrar or the Deputy Sub Registrar for you to receive an Encumbrance Certificate. Once it is ready, you can download a digitally signed EC which is available from the Documentary Repository and is officially recognised.
Conclusion
An encumbrance certificate is, therefore, a mandatory document for property owners if they want to sell their property or apply for a loan. The certificate renders the guarantee to the buyer that the property does not have any legal complications attached to it neither kept as collateral. If you are planning to purchase a property for residential purposes, you can apply for a housing loan online and avail financial assistance without any hassle.