Steps to Search for Encumbrance Certificate Online
Step 1:
Log in to IGRS Tamil Nadu on the TNREGINET portal.
Step 2:
On the menu bar, click on "E-Services" tab, click on the 'Encumbrance Certificate' option.
Step 3:
 You will be redirected to the next page where you need to start filling in all the required details such as zone, district, sub-registrar office, EC start and end date, survey details, etc. You must select from the two options displayed on the page "EC" or "Documentwise".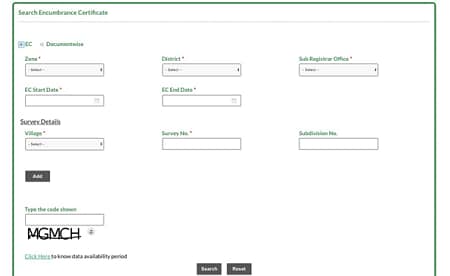 Step 4:
If you opt for "EC", you must fill in your details, such as sub-registrar office, document number, year, and document type.
Step 5:
Alternatively, if you select "Document Wise", you need to enter details of the sub-registrar office, document number, year, and document type. Enter the captcha code and click on "search" to check for the encumbrance certificate.
Documents Required for EC

Given below are the documents required when applying for an EC (Encumbrance Certificate):
1. Proof of address of the applicant
2. Property and its title deed details
3. Property registration-related documents
4. Property sale deed/gift deed/release deed/partition deed
5. The deed number with the date and book number along with the applicant's signature
Fees Applicable for Encumbrance Certificate
The fee applicable to obtain the Tamil Nadu Encumbrance Certificate is different for every state depending on the location of the property and the state government. As on 17th August 2013, the search and issue of certified EC copy in Andhra Pradesh and Telangana would be Rs. 200 per certificate search. The issue of EC copy of up to 30 years will be Rs. 200 per certificate and an EC copy of more than 30 years will be Rs. 500 per certificate.
What is the Processing Time to Avail EC?
If an individual applies for an EC in person at a sub-registrar's office, the certificate will be processed within 15 to 30 days. However, for online application, the processing time would be less. Online applications for Tamil Nadu Encumbrance Certificate on the TNREGINET portal usually take two to three working days to be processed.
The EC will give you the correct picture of the ownership as well as the financial liability attached to the property as available in the records of the registrar's office. Therefore, property buyers must undertake field inquiries about the property and take the right decision for the future. When it comes to buying a home, many first-time buyers opt for home loans for financial assistance. Hence, one needs to have a good sense of the loan requirements and compare loan offers from multiple lenders.