India has been witnessing a strong uptake on cashless payments in recent years, and that includes the use of debit and credit cards. In fact, the credit cards in circulation touched 48.9 million in May 2019, according to data from the Reserve Bank of India. This is a steep rise from 38.6 million credit cards that were in circulation in May 2018. The growth of 27% highlights that people are identifying with the convenience of cashless payments. It also indicates that the number of retail borrowers is also growing fast. People are now more comfortable with the idea of buying on credit, which is the operating principle of credit cards. The fact that people are warming up to credit cards as instruments of credit and payment is also reflected in the sheer value of transactions that have been made using credit cards. In the financial year 2018-19, transactions made using credit cards amounted to INR 6 lakh crore, whereas the same number stood at INR 4.6 lakh in the previous financial year 2017-18. It is evident that there has been a 30% jump here as well.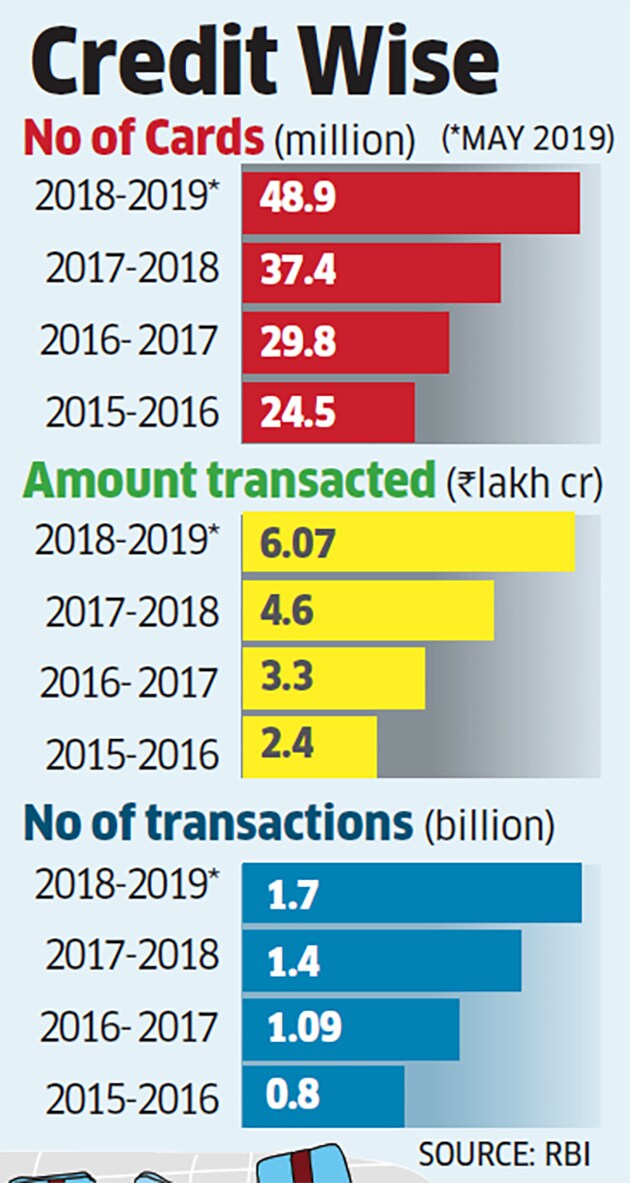 Why are these figures important? The numbers reflect the growing acceptance of credit cards as instruments of payment. Numbers are also strong for debit cards, alongside credit cards: the number of credit card transactions at POS terminals or swipe machines stood at 141.3 million, which means it saw a growth of 23.2% year-on-year. The same number stood at 347.2 million, establishing a year-on-year growth of 22.8% for debit cards as of February 2019.
The broader trend is that debit and credit cards are now fairly regular modes of payment - they both eliminate the need to carry cash everywhere. You can now swipe the card, and voila, the payment is done. However, the two are very different in their features and operation, the key debit and credit card difference is the process and implications of the money deduction that takes place whenever you make a payment or a purchase.
Before we deep-dive into what is the difference between debit and credit card, let us take a look at the basics.
What is a Debit Card?
Debit cards are plastic cards issued by banks against your current or savings account that allows you to spend the amount of money saved in your bank account. This is what is referred to as the bank balance. This also implies that you can only spend the total amount saved in your bank account. The moment you withdraw money from an ATM, swipe the debit card at a POS machine, or use your debit card credentials to shop online, the amount gets debited directly from your account and reflects in your balance. A debit card works great as a cashless mode of payment; however, during exigencies, lack of adequate balance in your account can limit its use.
What is a Credit Card?
The primary difference between a credit card and debit card is that the former functions on the principle of 'buy now, pay later', while the later deducts funds immediately. For every credit card, there is a pre-defined limit, up to which you can borrow funds. This means that you can use your credit card to swipe at a POS or transact online as long as you are operating within this limit. You will only need to repay the amount later, within a stipulated time frame. Once the money is repaid, the credit limit goes up to the former pre-defined limit. This pre-approved credit limit varies from one cardholder to another and depends on your credit history, credit score, age, income, etc. It is also worthwhile to remember that you only have to pay interest on the outstanding amount when and if you delay the payment. Credit cards come with reward points, cashback and discounts, offers, interest-free loan, cash withdrawals, no cost EMI conversions, and other benefits.
Credit Card and Debit Card Difference
The source of funds for a debit card is your savings bank account or current account, while a credit card gives you access to money that you may otherwise not have.

You can spend only as much as you have in case of a debit card, whereas a credit card allows you to spend more than you have.

Debit card transactions take place immediately, so no bill is involved. In contrast, a credit card accumulates all the transactions to form a bill to be paid by you within a stipulated time period.
Some of the other noteworthy credit card and debit card differences are mentioned in the table below-
| | | |
| --- | --- | --- |
|   | Credit Card | Debit Card |
| Credit Limit | Monthly credit limit | No monthly credit limit |
| ATM withdrawals | Chargeable | Not chargeable |
| Interest | Up to 50-days of interest-free credit | No interest charged |
| Annual fees | Annual fee may or may not charged | No annual fee charged |
| Usage | Can be used on all merchant outlets and online | May not be applicable on some websites |
| Eligibility criteria | Eligibility depends on multiple factors, including salary, credit history, place of stay, etc. | Eligibility criteria require you to have a bank account |
| Security features | zero liability insurance (some cards) | No zero-liability insurance |
To understand what is the difference between debit and credit card let us take a look at all the aspects mentioned above in detail.
Credit Card vs Debit Card: The difference between Debit and Credit Card Key Features
Credit Limit
Credit card- A credit card comes with a monthly credit limit, which depends on several factors including card type, your credit-worthiness, your credit history, etc.

Debit Card- The credit limit on debit cards is the total savings you have in your bank account. However, there may be a daily purchase limit imposed by the bank on your debit card.
ATM Withdrawals
Credit card- Withdrawing cash using your credit card attracts withdrawal fee and interest

Debit card- Cash withdrawal fee is not charged on debit cards, especially if you withdraw from your bank's ATM.
A daily cash withdrawal limit is there on both debit and credit cards. In some cases, credit cards also have a monthly cash withdrawal limit.
Interest
Credit card- Up to 50-days of interest-free credit can be availed on a credit card after which interest will be charged on your bill. Therefore, it is important to pay your outstanding amount by the due date.

Debit card- No interest is charged on debit cards as the money is directly paid from the funds in your account.
Annual Fees
Credit card- Credit cards may or may not charge an annual fee. In some cases, if you spend a certain value on your credit card, the annual fees are waived off.

Debit card- Annual fees are usually not charged on debit cards.
Benefits
Credit card- Credit cards are known for offering several benefits and perks such as cashbacks, discounts, gift vouchers, etc. You can also earn reward points on your credit card that can be converted to get free flight tickets, purchase merchandise, etc.

Debit card- You can earn discounts and cashbacks in some cases when you use your debit card to make purchases.
Usage
Credit card- Credit Cards can be used both online and offline at merchant outlets. Some websites specifically allow transactions only via credit cards.

Debit card- Debit cards can be used on most online and all offline channels.
Eligibility
Credit card- Several parameters are considered for being eligible for a credit card as it gives you access to money that you should be capable of paying back. This includes your income, credit-worthiness, credit history, etc.

Debit card- A debit card can be easily availed against your savings or current account as you are using your own funds to make purchases.
Security Features
Credit card- Credit cards come with high levels of security such as embedded chips and several other stringent security measures. In some cases, they also offer zero liability insurance against loss or theft of the card.

Debit card- Debit cards are secure too and keep your transactions protected using notifications via SMS, PIN and OTP.
Get a Credit card from Finserv MARKETS!
If you are looking to get a credit card, the Finserv MARKETS platform is the best place to apply for a credit card. Here, you can find every type of credit card, from some of the most popular banks, to match your lifestyle needs. Whether you are looking to save on fuel costs, enjoy discounts on shopping, get offers on movie and flight tickets, there is something for everyone! Students can avail amazing benefits from Student Credit Cards. Along with assured joining benefits on cards, each credit card also comes with welcome gifts and bonuses. You can use the card to effortlessly convert your purchases into EMI, while also enjoying rewards, discounts, cashbacks and much more! Also, prioritising the safety of your funds, each credit card on the Finserv MARKETS platforms comes with advanced security features, so that you are protected against identity theft and fraud.
So, what are you waiting for, go ahead and get a credit card from Finserv MARKETS, today!