The PM SVANidhi scheme is also beneficial to vendors as it helps them avail subsidies along with an increased loan limit. The interest subsidy will be valid till 31st March 2022. Street vendors are encouraged to carry out digital transactions and they can get a monthly cashback of Rs. 100. All street vendors who worked in urban areas on or before March 24, 2020, can avail the scheme. The loan can be repaid in the tenure ranging up to 12 months.
Benefits of the PM SVAnidhi Scheme
The scheme will help street vendors revive their businesses and make way for new opportunities to this sector to move up the economic ladder.
Avail working capital loan up to Rs. 10,000/-

Incentivization of regular loan repayment

Cashback reward for digital transactions
Guidelines for Interest rates
In case of Scheduled Commercial Banks, Regional Rural Banks (RRBs), Small Finance Banks (SFBs), Cooperative Banks & SHG Banks, the rates will be as per their prevailing rates of interest.

In case of NBFC, NBFC-MFIs etc., interest rates will be as per RBI (Reserve Bank of India) guidelines for respective lender category.

The Beneficiaries availing loan under the PM Street Vendor's AtmaNirbhar Nidhi Scheme, can get an interest subsidy at 7%.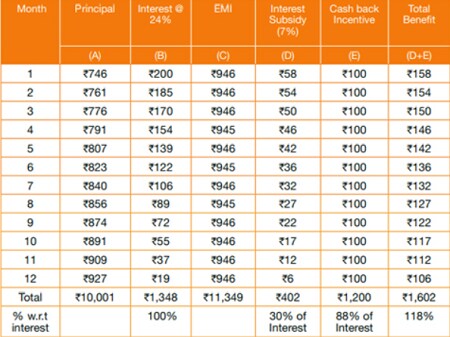 PM SVANidhi Eligibility Criteria
The Urban Local Bodies (ULB) / Town Vending Committees (TVC) will determine the beneficiaries eligible under the scheme. The eligible vendors will be identified as per the following criteria:
Vendors who have a Certificate of Vending / Identity Card from Urban Local Bodies (ULBs) are eligible to apply.

Vendors who have not been issued with the Certificate of Vending / Identity Card will be provided with a Provisional Certificate of Vending by the Urban Local Bodies (ULBs). The ULBs will provide a permanent Certificate of Vending and Identification Card to such vendors.

Vendors that were left out of the identification survey or who have started vending after post survey and have been issued Letter of Recommendation (LoR) are eligible.
PM Svanidhi Eligibility of States & Uts
The PM SVANidhi is only available for beneficiaries who belong to states or UTs which are listed under the notified Rules and Scheme of the Street Vendors (Protection of Livelihood and Regulation of Street Vending) Act, 2014. However, beneficiaries of the Meghalaya state are an exception even though it has its own State Street Vendors Act.
Pre-Application Process of PM SVANidhi
The below mentioned steps will ensure you are ready to start the application process on the portal.
1. Check your name in the vendor survey list and note your Survey Reference Number (SRN).
2. Keep a copy of your coefficient of variation (COV) or ID card ready for uploading during the application process
3. A Provisional COV shall be generated for you by the system while making an online application
4. Keep a copy of Letter of Recommendation (LOR) ready for uploading
5. The Vendor needs to declare any one of the following:
Vendor has received One Time assistance during the pandemic lockdown

Vendor must be a member of any vending/ Hawkers association
How to Apply For PM SVANidhi Scheme
Step 1:
Visit the official website at http://pmsvanidhi.mohua.gov.in/
Step 2:
Next you need to download the PM SVANidhi Scheme Loan Application Form.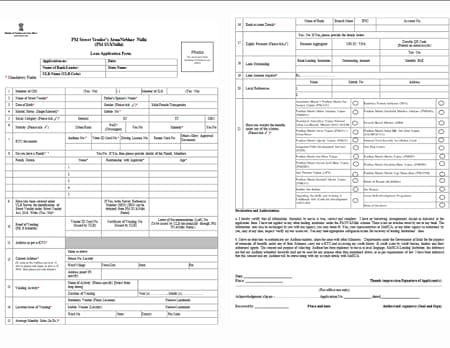 Step 3:
Select the vendor category that you are eligible for.

Step 4:
 Fill the Loan application form (LAF). It is a must to have your Aadhaar number linked to your mobile number.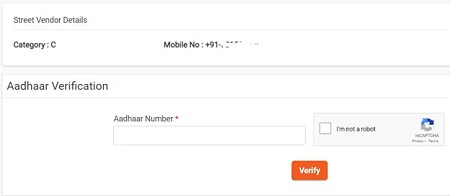 Step 5:
Submit the form after filling the necessary details.
How to Check Your Survey Status
To check your survey status, go through the following steps:
Login in to the official PM SVANidhi website https://pmsvanidhi.mohua.gov.in/

Click on the option 'Street Vendor Survey Search'.

Under this, you will have to fill in the requested fields like State, ULB Name, Vendor Id Card Number, Certificate of Vending No., Name of Street Vendor, Father's Name/Spouse Name and Mobile Number.

Once filled, you can click 'Search' to check your survey status.
Conclusion
The pandemic crisis has adversely impacted the livelihoods of street vendors that work with a small capital base and might have used the same during the lockdown. Hence, there is a need to provide credit for working capital to street vendors to resume their business. You can apply for collateral-free Business Loans at Finserv MARKETS. You can avail a Business Loan of up to Rs. 30 Lakhs, with a 100% online process. The approval is instant; it takes just 3 minutes and funds will reach you in just 24 hours. The repayment tenure is very flexible and ranges between 1-5 years. In addition, there are no hidden charges at all. You can also apply for a business loan online with the Finserv MARKETS App and get pre-approved offers on business loan.