What is GST Registration

GST has been one of the most significant tax reforms this country has seen. It is a single tax that replaced all the multiple taxes that were applicable previously, such as Central Excise, Octroi, VAT, Entry Tax, Service Tax, etc. GST was introduced nationwide on July 1, 2017. The Goods and Services Tax is a destination-based tax that follows a dual model in which both the State as well as Central government levy tax on all the goods and services. All businesses are required to register for a GST number for every State that specific company has been registered in. Under the GST regime, it is best to know whether the business is liable for GSTIN or Goods and Services Tax Identification Number registration and only then will it be registered accordingly.
Know about the various components of GST.
Who Should Register for GST
While it is mandatory for a business owner whose turnover exceeds Rs. 40 Lakhs to register for GST, registration should also be done by the following entities:
Any individual who has registered under the Pre-GST law of Exercise, VAT or Service Tax.

Individuals who are paying taxes under the reverse charge mechanism. Reverse charge is a mechanism where the recipients of goods/services have to pay the GST.

If any individual is supplying online information to anyone, who is a non-taxable person in India.

Agents of supplier and input supply distributor.

Individuals who are supplying inputs through e-commerce aggregators.
Know about things that entrepreneurship should know about GST.
Important Facts About GST Registration
Here are some essential factors that you must understand about GST registration. Read on:
There is no payable fee upon registering for GST.

Every business with an annual aggregate turnover of over Rs. 20 Lakhs must register for GST.

There are 11 states in India that are configured with the special status. These states include Arunachal Pradesh, Jammu and Kashmir, Manipur, Mizoram, Nagaland, Sikkim, Tripura, Uttarakhand, Himachal Pradesh, Assam, and Meghalaya. A business must register in these given states if the annual turnover is Rs. 10 Lakhs.

In case of supply in more than one state, it must be registered in each of the states.

In case of multiple branches across states, one of the branches must be registered as the main branch and the rest as additional. However, this does not apply to businesses that have separate verticals as listed in Section 2(18) of the GST Act, 2017.

A minimum penalty of Rs. 10,000, or 10% of the due amount, is levied on those businesses that fail to register for GST. If the authorities flag intentional tax evasion, a penalty of 100% is levied on the total taxes owed.
These facts are extremely important and must be followed to ensure a hassle-free GST experience.
How to Apply for GST Registration Process in India
The procedure to apply for GST Registration is mentioned below:
Step 1: Visit the GST portal online at (https://www.gst.gov.in/).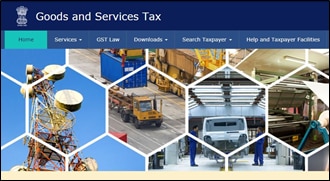 Step 2: Click on 'Register Now' link which can be found under the 'Taxpayers' tab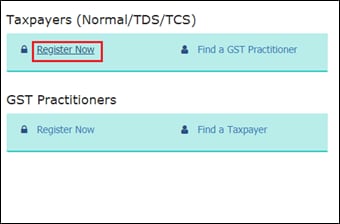 Step 3: Select 'New Registration' and fill the below-mentioned details and click on 'Proceed'.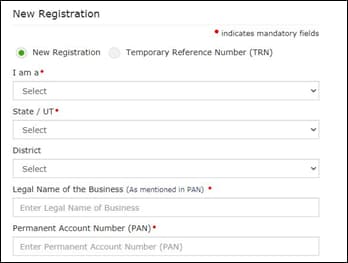 Step 4: Now enter the OTP that was sent to the email ID and mobile number in the respective boxes.
Step 5: You will be shown the Temporary Reference Number (TRN) on the screen. Make a note of the TRN.
Step 6: Revisit the GST portal and click on 'Register' under the 'Taxpayers' menu.
Step 7: Select 'Temporary Reference Number (TRN)'. Enter the TRN and the captcha details and Click on 'Proceed'.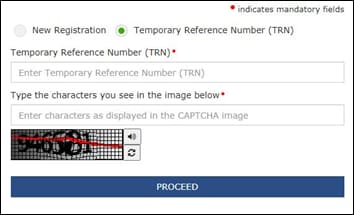 Step 8: You will receive an OTP registered mobile number and email id. Enter the OTP and click on 'Proceed'.
Step 9: The status of your application will be available on the next page. On the right side, click on the Edit icon.
Step 10: Once completed, a message will be displayed on the screen, and the Application Reference Number (ARN) will be sent to you on your registered mobile number and email ID.
GST Registration Process for New Business
Step 1: Visit the GST portal online at (www.gst.gov.in)
Step 2: Start filling in part –A of the registration form 1
Step 3: You will now receive an application reference number on your mobile and via email
Step 4: Fill in the second part of the registration form and upload the required documents according to the business type
Step 5: Obtain a registration certificate from the GST portal.
Step 7: Submit the required documents within 7 working days along with GST REG-04
Step 8: Go through the email and look for errors. In case of any errors, your application may get rejected, and you will be notified about the same in form GST REG-05 of registration under GST.
Also know about the E-way Bill.