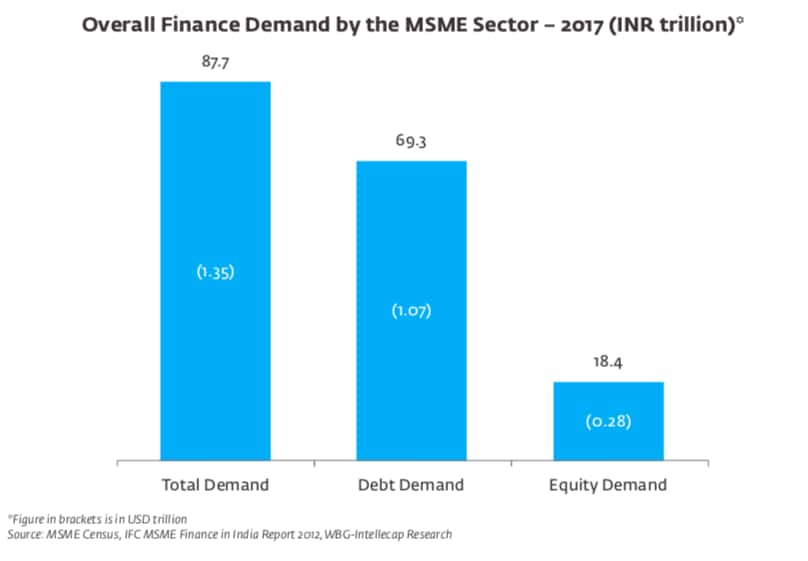 Source: MSME AR 16-17, Bank and NBFC ARs, SIDBI, RBI, NABARD, Primary Research, Intellecap Analysis (no change as it the source)
An unsecured business loan provides budding entrepreneurs and MSME owners with working capital that can be used for various purposes such as:

Buying, renting or repairing machinery and professional equipment

Upgrading technology

Stocking up on inventory

Hiring seasonal workers

Purchasing raw material for big orders
Thus, they are incredibly useful for those in need of funding for launching or expanding their business.
Features and Benefits of Unsecured Loans
No Collateral Required: Unsecured loans for business do not require a collateral as a guarantee against the money borrowe.
Quick Loan Approval and Disbursal: Since the loans are unsecured, the collateral need not be assessed and hence, the loan is processed quicker. If you opt for the unsecured business loans available on Finserv MARKETS, your application can get approved in just 3 minutes. Also, you can get the loan amount in just 24 hours! can be disbursed within 24 hours!
Large Loan Amounts: Unsecured business loans allow a larger sum of money to be borrowed unlike other unsecured loans such as personal loans.
Attractive Interest Rates and No- Hidden Charges: Unsecured business loans are offered at attractive interest rates and all applicable charges are mentioned online. Due to a lack of security, interest rates are higher than those of secured loans, but these can be offset with a good Credit Score and strong business history that gives the lender confidence.
Flexible Repayment Plans and Schemes: Various lenders offer attractive plans and schemes to repay the loans. The Hybrid-Flexi business loans available on Finserv MARKETS is one such scheme where With Hybrid-Flexi loans available on Finserv MARKETS, you get the option to pay 45% lower EMIs and also borrow, pre-pay as per your requirement.
Flexible Tenures and Modes of Payment: Most vendors offer flexible tenures to repay the loan which range from 12 months - 60 months.
Documents Required to Apply for Unsecured Business Loans.
Document requirements for unsecured business loans differ from lender to lender. However the following are the most common requirements:
Eligibility Criteria for Unsecured Business Loans