Short-term goals like home repairs and improvements require funds that can be made available in the near future. Certain investment options are perfectly suited to meet these requirements, since they allow the invested amount to grow reasonably over a short period of time. Briefly explained below are some of the most useful short-term investment options that can provide you with stable returns.
Short Term Investment Options To Consider are:
Bank fixed deposits (FDs)
A fixed deposit is a kind of investment where investors park their funds in deposit accounts opened with a bank or a financial institution. Depending on the tenure of the deposit and the amount deposited, the bank offers a fixed rate of interest on the principal. At the end of the tenure, the principal grows by this rate of compound interest. Considered to be one of the safest forms of short-term investment, bank FDs offer a lot of flexibility with respect to the quantum of investment and the tenure.
On Bajaj Markets, you can invest in fixed deposits and enjoy interest rates as high as 8.35%. Additionally,you can also enjoy other advantages like quick online application and the option to invest as low as Rs. 25,000.

Benefits
Investment tenure
Here's where fixed deposits are a step-ahead of other short-term investment options. The investment tenure offered by banks on FDs ranges from 7 days to 10 years. Typically, the most commonly preferred tenures 1-year and 5-year deposits.
Debt mutual fund
If you want to take the conventional route and keep your financial investments from being exposed to high levels of risk, debt funds may just be the right choice for you. A debt mutual fund invests the collective pool of money received from investors in low-risk debt instruments such as government securities, debentures, and corporate bonds. Investors have complete freedom when it comes to choosing between different debt funds to park their funds in.
You can invest in debt funds on Bajaj Markets and enjoy assured returns. These funds invest in commercial paper treasury bills, rated bonds, and money market instruments, among others.
Benefits
High liquidity

Low-risk option

Reasonable returns

Flexible tenure
Investment tenure
Debt instruments are categorized according to the tenure that they offer. There are four debt funds that you can invest in to realize your short-term financial goals.
Liquid fund: Maximum tenure of up to 91 days

Ultra-short duration fund: Tenure between 3 months and 6 months

Low duration fund: Tenure between 6 months and 12 months

Money market fund: Maximum tenure of up to 1 year
Treasury bills
Treasury bills are one of the safest kinds of short-term investment options available in the financial market. These short-term investment instruments are issued and backed by the Government of India. As the risk of default is completely non-existent, T-bills are the go-to option for conservative investors looking for low-risk options. They are also perfect for people who want to park any surplus funds in a safe investment option for the short term.
Benefits
Zero risk

High liquidity

Low transaction costs

Transparent process

No TDS
Investment Tenure
Treasury bills are offered with three different maturity tenures, namely 91 days, 182 days, and 364 days. The 364-day treasury bill is generally preferred by individual investors.
Investment in gold or silver
Another great way to meet your short-term financial goals is to invest in valuable bullion like gold or silver. The single biggest advantage that precious metals have over other traditional short-term investment instruments is the versatility that they offer. Investment in gold or silver can be for both the short term and the long term.
On Bajaj Markets, you can invest in 24K digital gold with just the click of a button. If you only have a small amount to invest, you can even purchase gold in sachets. Another advantage of buying digital gold on Bajaj Markets is that you can also sell it instantly at market-linked prices.
Benefits
Very high liquidity

Low-risk investment option

Hedging of financial market risks

Offsets inflation
Investment tenure
As bullion is highly liquid and comes with no fixed tenure or maturity, you can buy and sell precious metals at any point in time.
Recurring deposit
A recurring deposit is another investment option that can help you realize your short-term goals. This kind of investment essentially requires the investor to deposit a fixed sum periodically over the tenure of the deposit. At the end of the tenure, the principal deposited is paid out along with interest. Recurring deposits can be made by investing as little as Rs. 1,000 per month. People who prefer investing smaller amount will find this investment option perfect for meeting their short-term targets.
Benefits

Attractive interest rates

Option to save systematically

Flexible investment tenure

No penalty for missing deposit payments

Simple documentation process
Investment tenure

The tenure of a recurring deposit can vary from 6 months to 10 years. Typically, a 1-year recurring deposit can help you meet your short-term financial goals.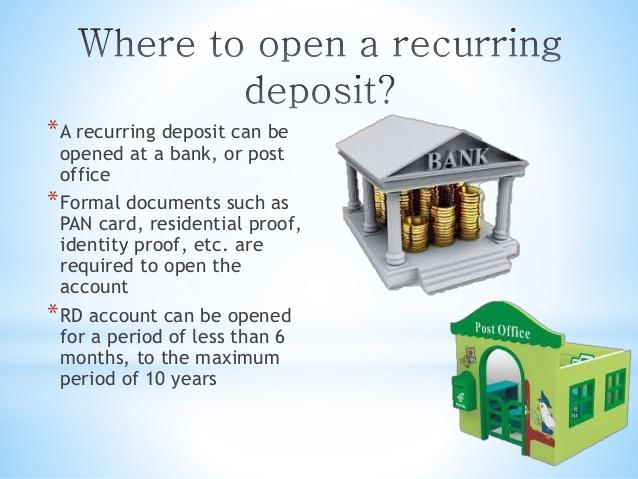 Source: slideshare
The Takeaway
These short-term investment options give you an excellent opportunity to allow your funds to grow in time to meet your immediate financial goals. Look up the details of these investment choices and pick the ones that best align with your current financial situation, so you can benefit greatly.
In addition to short-term investment options, your portfolio also requires long-term investments to achieve the right kind of financial balance. And among the many long-term investments available, a term insurance plan is one of the most fundamental options to consider. It's particularly useful for people who have financial dependents such as children, a spouse, or aged parents.

On Bajaj Markets, you can consider buying a term plan, that offers a significant coverage of Rs. 1 crore in return of low premium. Additionally, the Bajaj Allianz Smart Protect Goal term plan on Bajaj Markets also offers an add-on cover for 55 critical illnesses, so your family can rest assured that there's a financial safety net to fall back on in case of a medical emergency.
What's more, in addition to the other benefits they offer, term insurance plans also provide tax breaks to customers. As per section 80C, the premium paid to purchase or renew the plan is deductible from the total income, up to a limit of Rs. 1.5 lakhs. In addition to this, section 10 (10D) also allows that death or maturity benefits paid out to the insured or their beneficiaries are exempt from tax. Get the Bajaj Allianz Life Smart Protect Goal policy today.