Procedure for E-way bill Registration for Taxpayers/Registered Transporters
Given below are the steps to for an e-way bill login in:
Step 1: To register, you need to visit the online official website ewaybillgst.gov.in.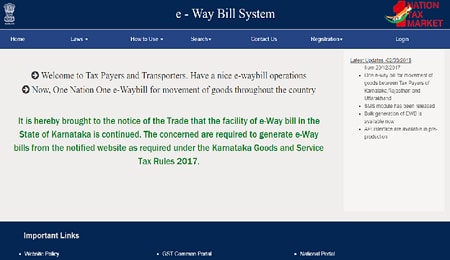 Step 2: On the homepage click on the 'Registration' tab and click on ' e-Way Bill Registration ' option displayed on the screen.

Step 3: Enter the GSTIN (Goods and Services Tax Identification Number) and the captcha code and click on 'Go'.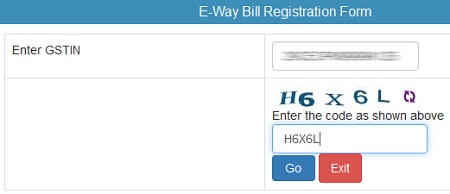 Step 4: Now you will get an OTP number on your registered mobile number which you need to verify to proceed further.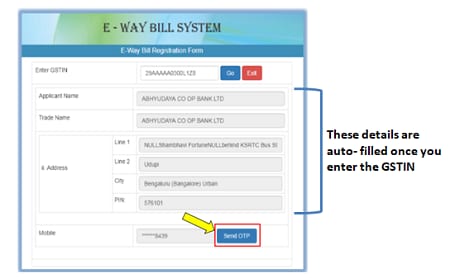 Step 5: Create a new User ID and set the password. After filling in all the required details, you will receive a user ID and password for the E-way bill.
The e-way bill system has helped control toll avoidance and increased timely compliances. Also, considering genuine cases that include non-filing or technical glitches, if any, the law accommodates a substitute avenue of getting an exception approval from the officials in control. This measure will help guarantee that no ridiculous disturbance is being caused to the businesses involved in the transportation of goods. Businesses face a lot of challenges and Finserv MARKETS understands such prerequisites of a business. By getting a Bajaj Finance Business Loan on the Finserv MARKETS app you can get the monetary help, your business needs. For your business, you can avail business financing of up to Rs. 30 Lakhs at affordable rate of interest. The online application procedure is exceptionally basic with minimal documentation. The loan funds get credited in your bank account within 24 hours post loan approval.
"Finserv MARKETS, a subsidiary of Bajaj Finserv, is a one-stop digital marketplace that has been created for consumers on the go. It offers 500+ financial and lifestyle products, all at one place. At Finserv MARKETS, we understand that every individual is different. And that's why we have invested in creating a proposition – Offers You Value. A value proposition that ensures you get offers which are tailor made for you. We also offer an amazing product range and unique set of online offers across Loans, Insurance, Investment, Payments and an exclusive EMI store. Be it in helping you achieve your financial life goals or offering you the latest gadgets, we strive to offer what you are looking for. From simple and fast loan application processes to seamless and hassle-free claim-settlements, from no cost EMIs to 4 hours product delivery, we work towards fulfilling all your personal and financial needs. What's more! Now enjoy the same benefits in just one click with our Finserv MARKETS App."