Whether you are a budding driver or an experienced one, knowing traffic signs in India is integral to your road safety. This is because traffic signs in India and all over the world serve to silently conduct road behavior, and ignoring them is against the law. Every year the traffic rules in India undergo an update. We will be addressing all the Indian traffic rules and signs. Keep reading to learn more.
Categories of Traffic Signs In India
There are different categories of traffic signs in India. In short, there are mandatory signs, cautionary signs, and informative signs.
1.Mandatory Traffic Signs
As the title suggests, this chief group of traffic signs includes obligatory traffic rules in India for drivers to follow. The goal of mandatory signs is the smooth functioning of traffic on the road. Violating any of the mandatory signs is punishable by law according to the Roadways and Transport Dept of India. Mandatory traffic signs in India are displayed below.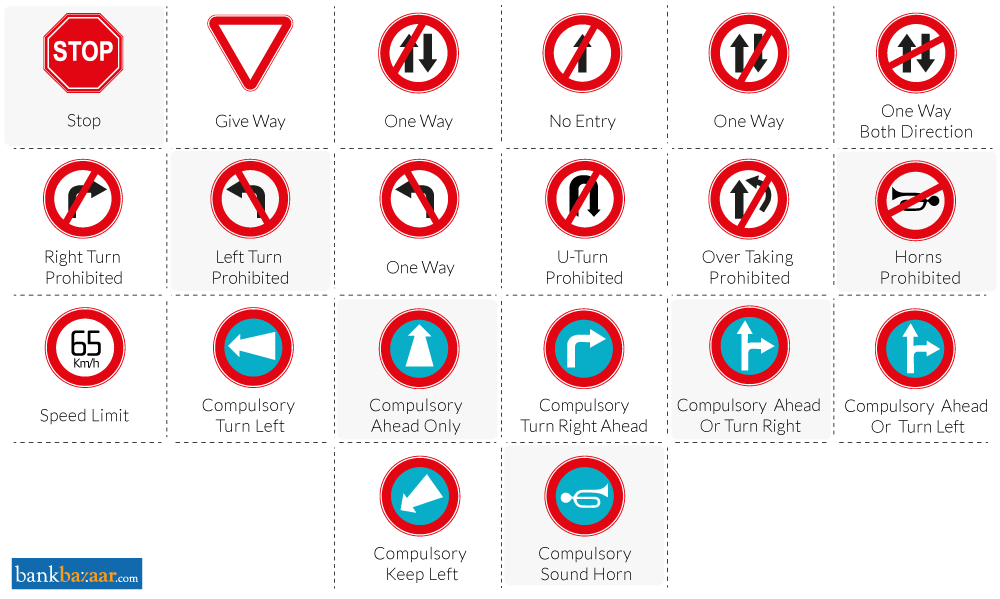 Source: Bank Bazaar
2.Cautionary Traffic Signs
The goal of cautionary traffic signs is to warn drivers of any potential threat on the road ahead like road work, potholes, and speed bumps. While these things are not inherent, if one doesn't slow down their vehicle, accidents could occur. Hence, cautionary signs are to be taken as seriously as mandatory ones. They are displayed below.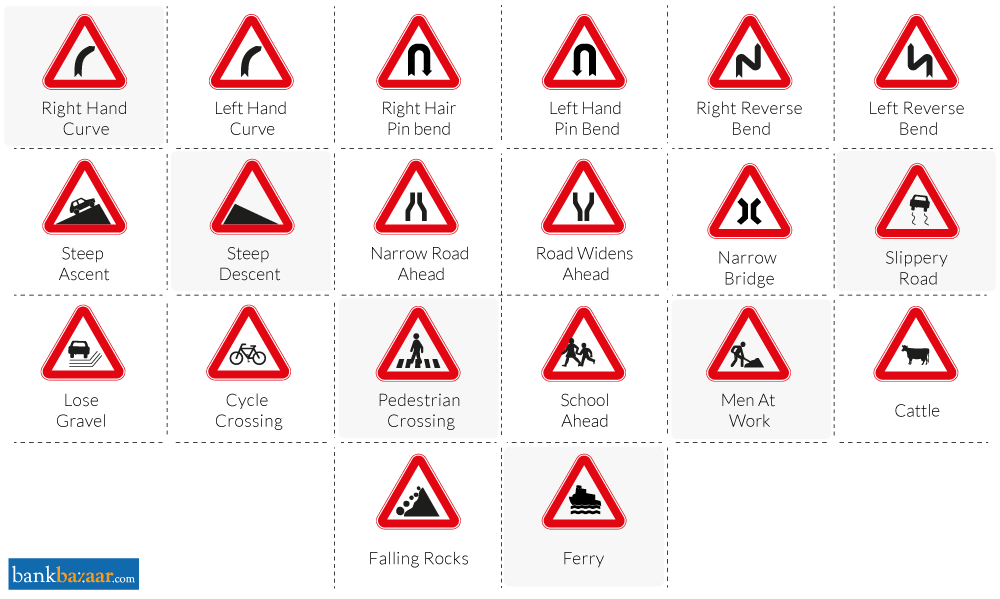 Source: Bank Bazaar
3.Informative Signs
Informative signs serve to aid any drivers without a map, or knowledge of the facilities area they are driving in. They can help guide drivers by offering directions or tell them about hospitals, public phones, and parking spots in the area. Informative signs are displayed below.
Source: Bank Bazaar
Functions of Traffic Signs
Traffic signs exist to perform certain functions for drivers on the road. Primarily, their core function is road safety. Additionally, traffic signs are helpful as
For those without a map or knowledge of the area, they show the distance remaining to reach a particular destination.

If people take a wrong turn or want to reach somewhere faster, traffic signs also show alternate routes to a certain destination, in case there are any.

Informative traffic signs help people find facilities they may be seeking out like hospitals, public toilets, or parking spaces. Traffic signs can also denote colleges, schools, clubs, public places, workspaces, and restaurants.
Importance of Traffic Signs in Daily Life
The value of road rules and traffic signs must not be ignored. By law, any driver on the road must be knowledgeable about all the traffic rules and traffic signs. The Indian government has made it mandatory to learn what all signs mean so that one can obtain a driving licence to drive.
According to the Indian government, 400 road accidents occur daily in India. In fact, according to the World Health Organisation, road accidents cost India about 3% of its annual GDP. Hence, the importance of following road rules and traffic signs in India cannot be understated.
By virtue of organizing traffic, road signs prevent these fatal risks posed to drivers and passengers in India. Following traffic signs is bound to minimize your chance of incurring an accident. Additionally, they can aid in easy navigation.
Traffic Rules in India
Traffic rules are officially listed in the 1989 'Rules of Road Regulations.' They are as follows:
Keep to your left if driving on a two-way street or road so that vehicles coming in the opposite direction can pass using the right lane smoothly.

If you want to turn left ahead, you must stay on the left side before taking a turn.

If you want to turn right ahead, you must be at the center of the road and then gradually take a broad right turn.

When you are coming towards a road intersection, road junction, or pedestrian crossing, you must slow down your vehicle.

If being overtaken by a vehicle, you must not increase the speed of your vehicle or, in any way, prevent the vehicle that is attempting to overtake from passing.

Overtaking is prohibited in the following cases:
If passing would, in any way, be dangerous for other travelers on the road.
If passing is near a bend, hill, corner or point, as it may lead to a critical accident without clear sight of the road in front.
If the driver upfront has not signaled the driver behind that the former may be overtaken.
When trying to overtake a vehicle that's already being passed by the third vehicle, due to lack of space.
For those driving two-wheelers, you and your pillion must wear a helmet.

Parking is not permitted on the top of a hill, footpath, near traffic lights, near a crossing on the road, on the road for pedestrians, near the entrance of a building, or if it covers a fire hydrant.

Your temporary or permanent Vehicle Registration Number (VRN) must always be displayed on the front and back of your vehicle.

A single pillion and no more is permitted per two-wheeler.

Drivers must make way for any cyclists on the road.

The head or tail-lights of your vehicle should never be obstructed.

On a one-way road, driving in the reverse direction is punishable by law.

When overtaking another vehicle, one must not go beyond the yellow line.

One must respect the STOP sign on roads and not stop beyond the sign.

Honking should only be carried out if necessary.

When driving on a mountain, or hill, your vehicle must be towards the right side of the road.

One cannot load the vehicle with certain goods, like Inflammable and explosive goods.

Overtaking must only be carried out from the right side.
New Motor Vehicle Act of 2019
On September 1st, 2019, the New Motor Vehicles Amendment Act of India was implemented country-wide. In general, it has scaled up the punishments for almost all traffic offenses. The goal of the New Motor Vehicle Act of 2019 is to lower the rate of road accidents by promoting safety on the roads in India.
It has introduced large fines for driving under the influence of alcohol, driving without a licence on hand, driving dangerously and speeding, among others. The New Motor Vehicle Act of 2019 penalties will be growing by 10% every April 1st, upon the notification by the Indian Central government.
Updated Traffic Rules in India
The new traffic rules in India are as follows:
In Uttarakhand, any driver caught talking on their phone while driving will have to pay a fine. However, the traffic police may also confiscate their phone and keep it in custody for 24 hours once a receipt has been issued to the offender.

In Rajasthan, any driver caught violating any traffic laws will have his driver's licence confiscated and discarded at the same RTO it was issued.

Different cities in India like Bangalore and Pune have banned loud silencers on motorbikes, as they not only cause noise pollution but also affect the efficiency and performance of the two-wheelers.

As per the new act, any driver found watching a video while driving is bound to be punished by law.

Parking a vehicle in front of and thereby obstructing the movement of essential vehicles like a fire truck, ambulance, or a police vehicle is banned.

No driver can be fined for the same traffic offense more than once except for overspeeding.
Conclusion
Although the importance of following traffic rules and regulations is stressed regularly, India is notorious for its sheer quantity of daily road accidents and injuries. Purchasing third-party motor insurance is not only mandatory in all states but also integral to protect yourself from any road accidents. You can consider obtaining your vehicle's motor insurance on Finserv MARKETS. By opting for the motor insurance policy on Finserv MARKETS, you get access to numerous benefits— swift claim settlements, cashless claims at a network of garages all over the country, and 24/7 assistance whenever you need it. Get your vehicle insured on Finserv MARKETS today.